So much good happening all at once. I hate when that happens.

That's how it usually is with me, nothing for ages, then everything at once, and I find it difficult if not impossible to handle it. I have a habit of just saying "f* it!" and curling up in the fetal position. (Not really, but I do give up when it gets too overwhelming and I screw myself out of goodness.)

I need Eppy's mind right now. He could handle a million great happy things at once, and was in much better shape when he did. Adrenaline was his lifeline ... but with me, adrenaline is just another stress ... it freaks me out and makes me retreat from everything to calm down. What a loser I am. :(


CLICK PICS FOR LARGER IMAGES




Anyroad, I got my eBay-won Basil Hyman press photo from Ireland today, and yes, I still feel like there's A REASON I should have this. The closer it got to me through the mail, the more good things started happening. @_@
Dale took off to his friends' house up north until Monday night. Yay. Well, he's come home early before, but...


I've got a new friend, not an LJ-er (but I wish she was) who is a rabid Neil Aspinall lover. I'm gonna beg ask for everyone to post pics of Neil on my LJ whenever they see them (she even wants "hidden Neils" hee hee).



Because, you see, she's got a decent scanner, and a load of Beatle books containing Brian that she's been sending me scans of. Some of which I don't have! And... this is the way I found her... she buys a LOT of eBay stuff if Neil is in them, books and pics, etc... so I emailed her through eBay and asked if there was a way I could get scans of the contact sheets she bought: she's the one who bought the contact sheets containing the little pics of Eppy in the cowboy hat!!! Because there were Neils in them, too. So I've got the cutest bigger clearer version of this pic now--->
No, this isn't the one she sent. I haven't had time to do anything with the pics she sent yet.

Yes, Van, with her permission, I shall post them in mrbrianepstein. I'm just going too nuts right now, and Steph is whining for her turn on the computer again.)
Firstly, though, I've gotta beg ask for a Aspinall picspam on beatlepics.



Just a lot of odds and ends type of things I've been experiencing in the past week or so. A lot of Brian-related feelings. More people and sites noticing me online. Premonition of something coming, something's happening. I know there are other particular things, but I just can't think of them right now!

All I can say is, "Thanks, Basil!" Hmm, I wonder if he's still alive... Those durn 1960's English Epsteins sure seem to croak early. Except for Queenie, who may have wished at times she'd died instead of her husband and sons! Poor Queenie ;_;

Okay, okay, here's one of the first ones: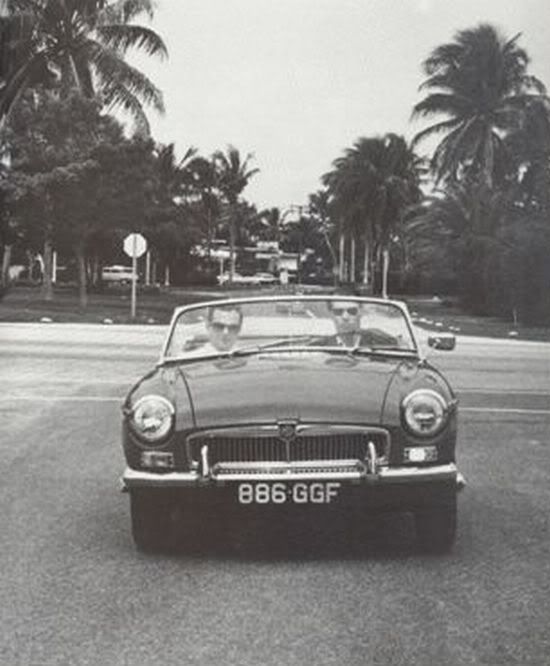 All I can say is,
THANK GOD SOMEONE RESEMBLING GEORGE MARTIN IS DOING THE DRIVING!
Reason being: Click here!

♥ ♥ ♥ ♥ ♥ ♥