A book had apparently been released in the UK, Jan. 2004, written by Geoffrey Ellis, entitled, I SHOULD HAVE KNOWN BETTER: A Life in Pop Management - "The Beatles", "Brian Epstein" and "Elton John"

(christine's NOTE: Geoffrey Ellis was at Brian's country home with Peter Brown to spend the August 1967 bank holiday, and they waited in vain for Brian to come back that fatal weekend, as he said he would. Ellis was apparently a very good friend ... since they were expecting extra company in the form of call-boys. The boys unfortunately never showed up until after a disappointed Brian drove back to Chapel St, where he died.)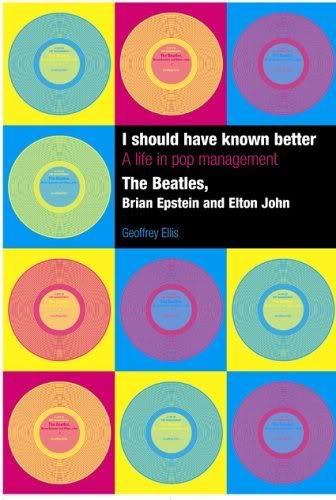 Woodslane.com.au (Australia) Blurb for I Should Have Known Better Hardcover:
"Geoffrey Ellis spent forty years in the music business, working closely with the Beatles and Brian Epstein during the 60s, and Elton John and his management in the 70s. From an unrivalled position he has written a highly informed account of the music business from the 60s to the mid 90s and an insider's view of the careers of many of the most significant players.

"His insight is less than adulatory and often critical, in particular of the Beatles and Brian Epstein, his friend."

ISBN:1854182196
Author: Ellis, Geoffrey
Publisher: THOROGOOD / RICHMOND
AUD RRP: 49.95 Aust.
Availability: Jan (Australia)

(christine's NOTE: I want to find out what Mr Ellis has to say about Brian that is "less than adulatory and often critical." I wonder if he is as big a backstabber as Peter Brown turned out to be.)

A law firm that also sells law-type books, in England, called Thorogood, has this to say regarding Mr Ellis: "During the 60s Geoffrey Ellis was Chief Executive of NEMS Enterprises, Brian Epstein's company, at the time when the Beatles became global superstars. His book contains insights and stories, many previously unpublished, concerning the often tortuous business and personal affairs of Epstein, and the aftermath of his death."
Editions
Hardback, Edition 1
ISBN 1 85418 219 6
250 pages
£16.99

Hello. I need this book. Yes I do.