Remember:
Some
eppylover -posted pictures pack
Awesome Hovermouseover Power!

---


The following started out as a comment to a post by
layla1188, but as sometimes happens, has evolved into a post to my own LJ.



Ma started me on piano lessons when I was 5. I finally rebelled and quit when I was 11 ... and most of it's forgotten now, unfortunately. Funny thing is, after 3 or so years of lessons, Mrs Sage had to take Ma aside to tell her that, after all this time, she suddenly realized that unknown to both of them I still could not read a note of music, but was playing the damn piano very acceptably! (I hesitate to say "perfectly" because nobody's perfect, least of all me.)

The reason this was happening was: Mrs Sage would pre-play the piece before she had me try it for the first time. Then when I played it, all I was doing was playing it by ear according to what I heard just previously! What a devil I was.

When she'd play it, I somehow used the printed music notes as "clues" or "prompts" to what I would have to mimic.


When Mrs Sage stopped pre-playing the music, my playing went all to hell. I never could learn to read music properly. Piano lessons became misery. Ma was determined that I know how to read the music, since she could never learn by that method, no matter how hard she tried (she was taking lessons right along with me, only a little more advanced).

Shit, all I ever wanted to do, all I ever could do, was to hear the beauty ... not "read" the music like a book or something. My way of thinking tends to be more, I dunno, ethereal or aesthetic and creative or intuitive than rote and literal, detailed or organized. With music, my mind cannot merge the two concepts. Is this a right-brain/left-brain conflict? I dunno.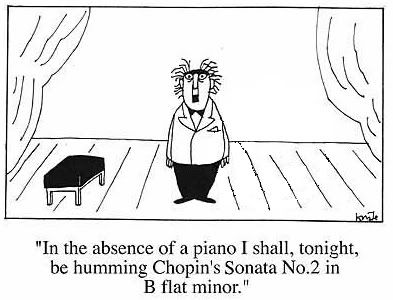 ---
(Don't forget to hover over my pics)