LENNON'S LUCY IN THE SKY DIES
(from contactmusic.com)

LUCY RICHARDSON, the inspiration behind THE BEATLES' hit LUCY IN THE SKY WITH DIAMONDS, died two weeks ago (01JUN05) following a two year cancer battle. She was 47.

Richardson, who became a successful art director on movies including CHOCOLAT (00) and THE LIFE AND DEATH OF PETER SELLERS (04), was the subject of the 1967 song, despite popular belief the track was a thinly veiled reference to the drug LSD.

However, JOHN LENNON always insisted the song was based on a childhood painting by his then four-year-old son Julian, who had befriended the girl at school.

John explained in a 1975 interview, "Julian came in one day with a picture he painted about a school friend of his named Lucy.

"He had sketched some stars in the sky and called it Lucy In The Sky With Diamonds."

Richardson's sister MARY FOSTER says, "Lucy remembered the times when she would sit with Julian as he drew pictures.

"She was rather chuffed to realise she had inspired the song title."

Her loved ones sprinkled crystals over her grave in a touching nod to the song which was dedicated to her.

15/06/2005 17:36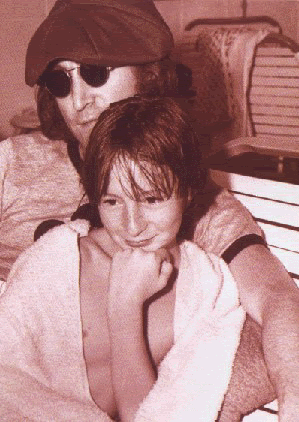 ---

"Dead Meat" is redundant.
Once something gets classified as meat,
it hardly ever recovers.
~Dilbert Cartoon Show, The Security Guard Episode

---


Sept 30, 2009 EDIT:

The REAL Lucy, Lucy Vodden, has died. Lucy Richardson (above) was a sham.

From The Sixties.blogspot.com
Some have suggested that "Lucy" was Lucy Richardson, who was several
years older than Julian and attended the same school. She later
worked as an art editor in the film industry on such movies as
Elizabeth, starring Cate Blanchett, and Chocolat, starring Juliette
Binoche and Johnny Depp. "Wrong again," said Vodden.