Per BeatlesNews.com ~
Thanks once again to Dave Haber of Beatles News for this story about Brian Epstein business letters (and Beatle stuff) being auctioned Thurs. May 27 (tomorrow).

If you want to peruse the Beatle stuff, you'll have to go to their catalog and find it yourself. ;P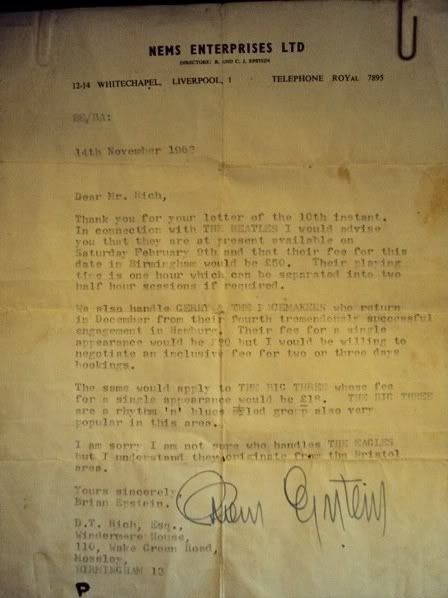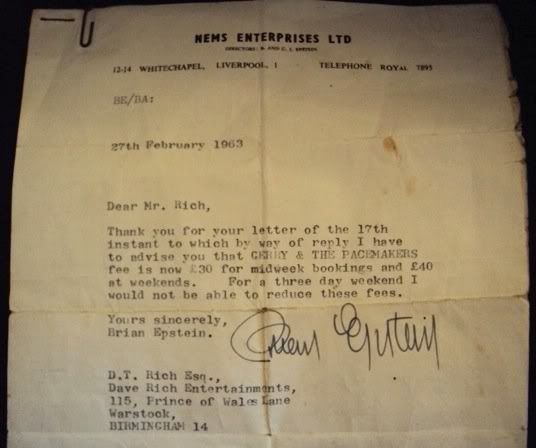 I am assuming the BE/BA stood for Brian Epstein/Beryl Adams. Ain't that a kick in the britches. You know who Beryl was.

More pictures and details on the auction:
Auction Lot 317 ~ Brian Epstein Letters

This is the description, copied and pasted verbatim from the website:
Brian Epstein Letters
Two historic letters from Brian Epstein on Nems headed stationary to a promotor by the name of Mr Rich. The first hand-typed letter dated 14th November 1962 explains that the Beatles are available to play fo Mr Rich on Saturday February 9th in Birmingham for a fee of £50.00 which would include one 1 hour performance or 2 half-hour performances. Epstein goes on to suggest that he also has Gerry and the Pacemakers available from £20.00 or the Big-Three for £18.00. It is then boldly signed in Blue ink Brian Epstein. The second letter, also hand-typed on NEMS Enterprises Ltd headed paper to Mr Rich and dated 27th February 1963 explains that Gerry and the Pacemakers are now £30. for midweek bookings and £40.00 for weekends. With an Original near mint Cavern Club membership card/booklet belonging to Mr Rich.
I would be much more interested, frankly, in personal handwritten letters than in typewritten business letters such as these.

Nevertheless, the wording/phrasing in the letters being auctioned (as transcribed by his secretary "BA") is a little bit of a look into the way his mind worked.