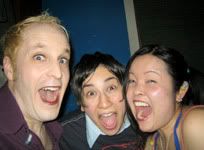 Doodeedoodeedoooo
Just a-surfin' 'round and a-drillin' down,
webby webby innernetz wandering,
I comed acrosst this and ...
...almost choked on my coffee.

I think that was their only Jewish-ish "song."
...But wait, there's more!

For your perusal, here are additional misc soundbites from this crazy little trio out of Atlanta.

Click around on their site and enjoy yourself.



You're welcome, I guess.