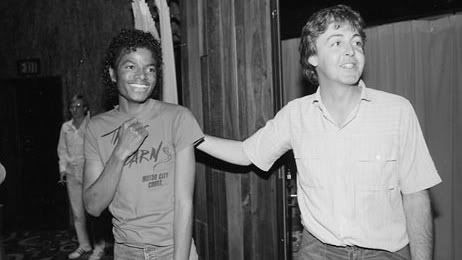 "It's so sad and shocking. I feel privileged to have hung out and worked with Michael. He was a massively talented boy man with a gentle soul. His music will be remembered forever and my memories of our time together will be happy ones".

"I send my deepest sympathy to his mother and the whole family and to his countless fans all around the world."
~ Paul McCartney
---
CLICK FOR LARGER IMAGE
eppylover says:
At a time like this, I suppose we should not keep bringing up
the bad or questionable things
~ ahem ~
one of my bad habits, as you know.



Even though I've posted plenty of MJ disses in the past,
I will confess to greatly enjoying a lot of his music,
and heartily agree with Fred Astaire that Michael was a dancing genius.

Yes, the dancing...
This is too cute ~~~

Michael & Gene In The Rain


Liza on Michael:
Michael's friend Liza Minelli (Jackson was an usher at her marriage to David Gest) said on the CBS Early Show, "All those who knew him well really know what he was like, and I'm sure that now the accolades are going and I'm sure when the autopsy comes, all hell's going to break loose. So thank God we're celebrating him now."

She added, "I'm just devastated. He was such a good friend. And he was just a really splendid man. And a brilliant performer who changed theatrical history. I will miss him, I cannot tell you. I saw him all the time. He was so fascinated with everything. He wanted to learn. Once a week he'd have dinner - when he was in Hollywood he'd have dinner with Gregory Peck, and then another night he'd have dinner with Fred Astaire, and another night with Gene Kelly."

Lisa Marie on Michael:
Jackson's ex-wife Lisa Marie Presley posted her thoughts about Jackson on her MySpace blog, "Years ago Michael and I were having a deep conversation about life in general. I can't recall the exact subject matter but he may have been questioning me about the circumstances of my Fathers Death. At some point he paused, he stared at me very intensely and he stated with an almost calm certainty, 'I am afraid that I am going to end up like him, the way he did.'"


Finally, MJ fans might like this page:
http://floacist.wordpress.com/2007/10/11/quotes-on-michael-jackson/