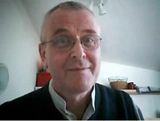 Like my philosophical/religious mentor George Carlin, I don't feel so much like a skeptic but rather more like a realist.

How about that. Three "likes" in one sentence.



I never wish to offend, but I do need to use my Sundays to vent.

Realism with a sweet English accent.
The erudite Pat Condell is my still-living "pastor" of choice :)



I want to have Michael Shermer's mind's baby. LOL

Note: Part 1 of this interview is also amazing.


---