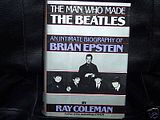 Click Here to see a fab deal on one of the two BEST Brian books EVAR!
(The other one is Debbie Geller's The Brian Epstein Story)

It's a heavy book, so 8 bucks shipping is very reasonable.

If you've never read it, you have missed out BIG time!
_____________

*** EDIT ~
rooftopconcert won this auction! There were 6 bids altogether, and she ended up paying $3.75! CONGRATS! ***
_____________

p.s. No, I don't know the seller!

---