I adore Roy Zimmerman ~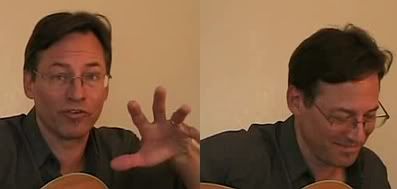 I feel he is the successor to Tom Lehrer ~ if that's possible.

I confess I've never been a real fan of the other Zimmerman ~ Bob Dylan ~ although I'd probably like him fine as a personal friend if it ever came to that. He seems like one of them good yet odd eggs, y'know? It's just that I personally cannot handle that voice of his, and I've never thought his lyrics were all that, either. So slap me, my many flisters ~ your mileage varies, I'm sure. :)

Anyway, Roy has used his fellow Zimmerman to good avail; to-wit:


Y Y Y Y Y Y Y Y Y Y Y Y

Heh. On August 29 McCain announced Sarah Palin as his choice for vice-president.
The minute I heard Palin described, I laughed and said right out loud to myself:

"Well, there it goes! McCain has just LOST the election!"


That woman is the embodiment of all things nauseating to your old opinionated eppylover:
Animal killing, radical rightwing conservatism, beauty pageantry, and ~ worst of all ~ evangelical christianity!

As for Palin attracting women, including disgruntled Hilaryites, to vote for McCain just because she is a woman: Craig Ferguson has said that he feels American women are far too intelligent to vote for a candidate simply because she has boobies and a vagina.

What. Were. They. Thinking.

So, what do you think of this?
~ Sarah Palin's church, on the Jews ~

Also~
Video of a typical service at Palin's church ~ don't miss the comments following that vid!


*sigh* Shabbat Shalom.