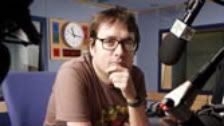 This relative of Brian Epstein,
James Hyman

(Queenie's brother's grandson)

is the voice-over (the DJ's voice coming from a parked van) in

this weird new UK McDonald's commercial
~ for now, I can only find it on MySpace TV.

James is in showbiz, to the dismay of the Epstein/Hyman extended family. Well, at least I've read one mention in an interview with him that alludes to his family's anxiety about the entertainment business effects on him ~ y'know, sex, drugs and rock 'n roll!

I'm curious as to how the rest of the Epstein family does feel about James, since I really don't know much about him other than what's on his website (lots of hip-hop stuff and such), Wikipedia and the James Hyman MySpaceTV Channel...


---