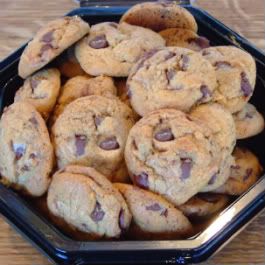 What's Different This Passover?
No Margarine
Cooks Face Shortage
Of Kosher Ingredient

By ANN ZIMMERMAN
April 18, 2008


It's the great kosher cooking crisis of Passover 2008.

A shortage of special kosher-for-Passover margarine is causing dismay in Jewish households across the nation as family cooks discover they can't make many of their traditional Passover meals without it.

Particularly irksome is the absence of kosher-for-Passover stick margarine, an essential ingredient in baking for the weeklong holiday starting at sundown Saturday.

"Margarine-gate, that's what we're calling it," says Rabbi Moshe Elefant, chief operating officer of the kosher division of the Orthodox Union, the leading kosher certification agency. Rabbi Elefant's phone has been ringing practically nonstop as Jews in and around Manhattan, where his organization is based, attempt to hunt down the precious commodity.



Some stores in the New York area have been rationing kosher-for-Passover margarine, letting customers buy only a single package. Others are using it as a marketing tool, selling only to those who agree to buy a certain amount of other items too.

In Dallas, Mona Allen, a mother of four boys, is still desperately looking for enough margarine for the cookie and cake recipes she has collected and perfected for years. Her mother in Cleveland scoured grocery shelves there before flying down for the holiday, but could find only three one-pound boxes. That wasn't nearly enough for all of Ms. Allen's cooking needs. And it was double last year's price.

"I bake a lot, because I want to sweeten the holiday that my kids complain about," says Ms. Allen. "No matter how many new things I try at meals, they say, 'Yuck, Passover food.'"

Margarine is crucial to kosher cooking because the dietary rules don't allow mixing meat and milk products, such as butter, at a meal. Margarine, made of vegetable oil, can be eaten with either meat or milk, and it can be kosher if rabbis oversee production to be sure no dairy products touch the machinery.

That's not good enough for Passover, though. Stricter kosher rules for the holiday forbid corn and legumes such as soy. So Passover margarine is made only from cottonseed oil or palm oil.

Alita's Passover Chocolate Chip Cookies

Ingredients:
½ cup plus 2 tablespoons passover cake meal
1 ½ cup plus 6 tablespoons potato starch
1 teaspoon salt
1 cup pareve kosher for Passover margarine
¾ cup granulated sugar
¾ cup brown sugar
1 teaspoon vanilla
2 eggs
12 ounces kosher for Passover parve chocolate chips

•

Mix together the passover cake meal, potato starch and salt.

•

In a second bowl, mix together the margarine, sugar, brown sugar and vanilla until creamy.

•

Beat the eggs into the margarine mixture. Add the flour mixture to the margarine mixture. Mix well. Stir in chocolate chips.

•

Drop by well-rounded teaspoons onto parchment paper covered cookie sheets.

•

Bake at 375 degrees for 10-12 minutes

--Alita Millen, Baltimore, Md.

* * *

Decadent Chocolate Flourless Cake

Ingredients:
Cake:
7 oz. semi sweet chocolate
8 oz. margarine
1 tsp vanilla
7 separated eggs
1 cup sugar-separate use
1/8 tsp lemon juice

Topping:
1 cup chopped walnuts
1-2 strawberries

•

Pre-heat oven to 325 degrees.

•

Melt chocolate and margarine together. Blend thoroughly. Add vanilla and continue to blend until smooth. Set aside.

•

Beat egg yolks until pale yellow. Add ¾ cup to the yolks. Continue to blend and then combine with the cooled chocolate mixture.

•

Beat egg whites with lemon juice to form soft peaks. Add ¼ cup sugar. Fold whites into the chocolate.

•

Pour ¾ of the batter into a 9-inch springform pan. Bake for 35 minutes in pre-heated oven.

•

Refrigerate remaining batter to use as frosting once the cake is completely cooled.

•

Top with strawberries and walnuts.

--Iris Zahler, Cleveland, Ohio

* * *

Ice Box Cookies

This is a slice & bake cookie -- Keep some logs in your fridge, they taste great out of the oven.

Ingredients:

¼ lb margarine
1 cup sugar
1 tablespoon orange juice
¼ teaspoon salt
1 cup cake meal
½ cup chopped nuts or choc chips
Wax paper

•

Cream sugar and margarine in bowl until smooth. Add egg and juice & beat well. Fold dry ingredients adding chips or nuts last. Shape dough into 2 logs on wax paper, wrap and refrigerate for 3 or more hours. (The dough will keep for several days.)

•

Preheat oven to 350. Slice dough and back on ungreased cookie sheets for 15 minutes until golden. This makes about 2 dozen cookies and recipe doubles easily.

--Mona Allen, Dallas, Texas


But it's a once-a-year product, and a hassle to make. Machinery needs to be broken down and cleaned before the margarine is made, to prevent contamination with non-kosher food.

Further discouraging production is a shortage of cottonseed oil that has driven its price way up. Some U.S. farmers deserted cotton to plant corn last year when ethanol production sent corn's price higher, industry officials say.

R.A.B. Holdings Inc., which sells the Manischewitz line of kosher foods, learned in December that the private company that makes its best-selling Mother's brand had gotten out of the Passover-margarine business. The private company, Ventura Foods LLC, bowed out because the plant was consolidated with others and "the expense to become kosher certified wasn't perceived to be worth it," says John Kidde, an official there.

The seller of Manischewitz looked hard for a new supplier, but other kosher-food makers weren't eager to rush in with new supplies. The result is that this year only one U.S. factory is making Passover margarine, MidAtlantic Vegetable Shortening Co. of Kearny, N.J.

But MidAtlantic makes only tubs and one-pound blocks or bricks, not the easy-to-use stick margarine. The bricks can be crumbly, some cooks say, and the softer margarine used in tubs has a higher water content that throws off recipes.

In any case, MidAtlantic couldn't fill all of its original orders, much less make up for the absence of the Mother's brand, because MidAtlantic wasn't able to get all the cottonseed oil it wanted.

"Frankly, it is a lot of work and expense for a factory to produce kosher-for-Passover margarine for a short time," says Rabbi Elefant.

Passover is a lot of work for Jews, too. While many are less strict, those who observe all the requirements of Passover must clean their homes of all forbidden foodstuffs and use a different set of dishes and of pots and pans. With all the cleaning and cooking, who has time to go on a margarine-hunting expedition or experiment with new recipes?

Most observant Jewish families were unaware of the scarcity of kosher-for-Passover margarine until they needed some to start baking this week. Passover, which commemorates the Jewish people's escape from slavery in ancient Egypt, is celebrated during two nights of elaborately prepared dinners during which the Exodus story is retold. But the strict dietary laws are followed for a week.

Bland, unleavened matzo flour is a staple of the holiday, making Passover cooking something of a sport as practitioners try to get food to taste as much as possible like everyday fare. "There are so few really tasty things at Passover that when you find a great recipe and you can't find an ingredient, you despair," says Stephanie Prescott, a Dallas mother of three boys who will serve 25 people during the Passover service, or Seder, on Saturday.

Her family's all-time favorite dessert, a "decadent flourless chocolate torte," requires a whole stick of kosher-for-Passover margarine. Ms. Prescott thought she'd be able to score some from a local kosher caterer, but he could find only tub margarine, no bricks or sticks. Finally, she dug out a year-old stick from way in the back of her freezer.

Alita Millen, a Baltimore business owner, had spent years perfecting a recipe for kosher chocolate-chip cookies that taste almost like the Toll House original. She first tried using matzo cake meal, but the cookies came out too grainy and heavy. Then she cut back on the matzo and added potato starch, and her cookies got raves. But now she can't find the stick margarine she needs.

She tracked down the last two packages of block margarine at a kosher supermarket, but was sorely disappointed with the results. "The margarine just crumbled. It was a mess," she says.

This is actually the second kosher crisis this Passover season, following the absence of holiday favorite Tam Tam matzo crackers because of production problems at the Manischewitz plant. It is the first time in more than 60 years that store shelves will lack the popular six-sided cracker that is as ubiquitous at Passover as Peeps marshmallow candies are at Easter and candy canes at Christmas.

Some Jewish cooks are facing the scarcity philosophically Charlotte Price in Cleveland panicked when she couldn't get the margarine for her traditional squash casserole, glazed chicken and cinnamon chocolate cake. She finally found two one-pound blocks, but the experience left her thinking.

"Passover food evolved over the years to some kind of contest to see who can manufacture the most things resembling the other 51 weeks of the year," she says. But "I think the idea that you can eliminate any Passover sacrifices is a mixed blessing."

Rabbi Elefant takes a longer view. "It should be the worst thing that happens to the Jewish people," he says. "I'll gladly take peace in Israel and give up my margarine."

Write to Ann Zimmerman at ann.zimmerman@wsj.com

Here's the article on its original website

Y Y Y Y Y Y Y Y Y Y Y Y

PART TWO ~ Pesach Playlist?

SHALOOooOOOMmmMMMM!!!


MATZA BALL RAP


MATZO MATZO MAN ~ BY THE CHOSEN PEOPLE


WHO LET THE JEWS OUT?
One of those amusing DanMeth.com ad vids


FROM CHRISTINE WITH MUCH
---