*** THIS POST EDITED, REVISED & HIGHLY ADDED-TO ***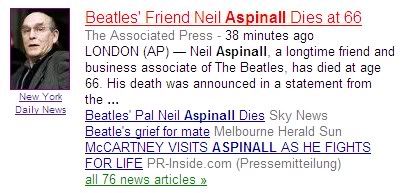 Lung cancer, age 66

The original and only officially Eppy-assigned Beatles biographer, Hunter Davies, does an obit on Neil ~
Beatles fixer and friend takes secrets to the grave
~ here's an excerpt ~
Neil Aspinall was one of only two people of any importance in the Beatles saga who never told their story. Which is strange, when you think we've had a thousand Beatles books these last 40 years. I asked him countless times, saying he should get it all down, before it's too late, if just for his children. He always said no.
[more...]
Source: The Guardian, UK [Related Articles]



~*~ ♥ ~*~


Sir George Martin actually sent a letter to the The Times UK (printed at end of this article)

From The Times
March 25, 2008

Neil Aspinall: The Times obituary
Boyhood friend of the Beatles who went on to manage the band's
commercial empire as chief executive of Apple Corps
"I am the custodian of the graveyard," remarked Neil
Aspinall later in a life which, several decades earlier, had
regularly found him toiling up and down the A5 in a van
whose heater was often inadequate to the task of warming the
four musicians he ferried about the country.

Such was his long-established affinity with them that he
perhaps had the best claim to fill that role to which many
aspired - "the Fifth Beatle". What is more, he, rather than
George Harrison, could have been dubbed "the quiet one", for
he shunned the publicity which he could so easily have
courted when he progressed from dealing with the white
Commer van's spark-plugs and lugging amplifiers on stage to
taking over the running of the Beatles' company, Apple,
after its wayward start.

As an intermediary between a group at loggerheads, he
salvaged the company and turned it into a highly efficient
one. If this was rather different from the "Western
Communism" which John Lennon and Paul McCartney had
envisaged, a hothouse for fresh talent, it ensured that the
group received a considerable boost from the gradual
unveiling of all the scattered film and alternate takes from
an incredible, pell-mell, six-year stint in the studio and
around the world.

All this worldwide activity owed as much to Aspinall's
correspondence course as an accountant as it did his hefting
the equipment. He was born in 1942 in Prestatyn, North
Wales, to where his mother had been evacuated during the
German raids on Liverpool while her husband was serving in
the Navy. After attending West Derby school, he joined the
Liverpool Institute, where, for some lessons, he was in the
same class as McCartney, both of them being a year ahead of
Harrison, whom Paul had met on the bus. They all smoked
together behind the air-raid shelter in the playground.

Aspinall recalled: "People were into skiffle then, and would
go round to each other's houses and play instruments - there
were no bands formed, as I recall. I remember this: getting
off at Penny Lane and we're all waiting there and I ask,
'Who are we waiting for?' A bus stops and a guy gets off
with his arm around an old man that he is talking to - and
walks off down the road. He was back in a few moments and
somebody asked him, 'Who was that?'. . . 'I don't know,
never seen him before.' That was my first impression of
John. 'What's he doing with his arm round some old guy he's
never met before?' That was John Lennon."

Unlike Lennon, Aspinall left school with a good haul of
examination successes, and - reckoning that he was not one
of nature's musicians - settled for a job as a trainee
accountant in 1959. He was also friendly with Pete Best, at
whose parents' home he lodged. In due course, Best joined
the group to fill the often-vacant spot of drummer, a
problem encountered by many a local group. Best's position
had been further strengthened by his mother Mona's turning
over a basement into the Casbah club. This had provided a
venue in which the group could hone its talents, a preamble
to appearances elsewhere in the vicinity, a hard-working
apprenticeship which eventually brought them a first stint
in Hamburg. This immersion in the rough-and-tumble of a
demanding audience tightened their act and heightened their
inherent wit: they gave as good as they got.

It is a story told many times, a fabulous progression which
can easily overlook the hard slog involved. Back in
Liverpool, and in greater demand, the band was now above
carrying their instruments to far-flung gigs. Aspinall
became their driver. For £1 a night, he drove them around
the North West in the evenings, which every week amounted to
rather more than the £2.50 he earned at the accountancy
firm. These evening stints required him to nip home and put
in some more work on a correspondence course before
returning to collect the group.

The group's lunchtime sessions at the Cavern increased the
local fervour and brought them to the attention of Brian
Epstein, but they struggled to get a recording contract. On
a snowy New Year's Eve, 1961, Aspinall drove them to the
failed audition at Decca.

"All of us were broke and it was snowing and very cold," he
said. "We went down Shaftesbury Avenue and around there,
amazing things to buy. The bootshop Anello & Davide was on
one corner, then Cecil Gee, the clothes store. We went into
a club up by St Giles Circus. We didn't stay long because it
was boring. Some of the women had an after-eight shadow. We
were starving and we went into a restaurant. All that we
could afford was the soup, so they threw us out and we went
into Soho and got something there. London was all very
exciting and new."

After a seeming eternity and a last-minute bout of great
good luck, Epstein got them a contract with Parlophone's
George Martin, who was not enamoured of the drummer's work
(as the Decca tapes show, Best's was not a style best suited
to disc).

This could have also been the end for Neil Aspinall who,
after Best emerged from Epstein's office with news of his
sacking in 1962, went with the forlorn drummer to a pub.
There, the good-natured Best told him not to quit, the group
was going places.

In all that followed, Aspinall - in a lesser-known twist to
the Beatles story - was perforce to remain in contact with
him. During the absences of Best's father from the house on
travels for his work, Aspinall had begun an affair with Mona
who, in her forties, became pregnant by him. The boy -
Vincent Roag - was to be brought up by the Bests while
Aspinall, who had become road manager for the group, went
around the world.

Aided by Mal Evans (who was mistakenly shot dead by the LA
police in 1976), he was a part of the close, almost
telepathic circle by which the group kept its sanity amid a
whirlwind. This was caught in Alun Owen's screenplay for A
Hard Day's Night in which the pair were - loosely -
portrayed by Norman Rossington and John Junkin. The film
brought Aspinall into contact with the English production
head of United Artists, Bod Ornstein, whose daughter Suzy he
married in 1968.

"I always look forward to tours," said Aspinall, "but when I'm
on them, they're a drag." At one point, such was the pace of
this life, his weight went down to eight stone (33kg).

Many have pronounced upon the course that the Beatles took
after the death of Brian Epstein in 1967, but the group's
dissolution cannot be attributed to any one thing.
Certainly, none of the group relished sitting in a boardroom
when they could be in a recording studio, and the
freeloading atmosphere of Apple left them vulnerable to
offers of help from such people as Allen Klein.

It was an endlessly prolonged stage in the story, with
lawsuits from every direction year after year. For every
moment when the members of the group were drawn together, as
on the Ringo album, there were others when their ready wit
could turn into petulance. Amid all this, Aspinall, who had
survived Klein's purging of the Apple headquarters, became -
for lack of any more formal term - the firm's managing
director. He missed one of its most famous moments, the
rooftop concert, because he was in hospital to have his
tonsils removed.

Throughout the Seventies and Eighties, he worked to rebuild
the Beatles' empire, often a matter of upping the paltry
royalties they had been given early on, when it had never
been anticipated by anybody that the group would last, let
alone so far beyond its break-up. All the while, along with
various reissues of the group's output, and a dispute with
Apple Computer about the use of the name, he nurtured the
production of a documentary series which, in the early
Seventies, had been given the working title of The Long and
Winding Road. The continuing disputes, and the group's other
work, meant that this was continually delayed, which was
perhaps as well, for, 25 years after the break-up, enough
time had gone by for them to feel easier looking back and
releasing material originally set aside. (Unlike Bob Dylan,
they did not discard masterpieces, although their version of
Leave My Kitten Alone is terrific and Child of Nature - the
original incarnation of Jealous Guy - is more than a
curiosity).

Under Aspinall's guidance, in the mid-Nineties, there came
together a series of six CDs and a coffee-table book, along
with a television series - all bearing the disinterested
title of Anthology - which netted the group millions around
the world, a small proportion of which went Pete Best's way
for the tracks on which he drummed. Aspinall himself
reminisced (with a hat to disguise his baldness) during the
series which was expanded for video and DVD release - but,
alas, lost to posterity is the glorious moment in the first
advert break, when, splendidly lugubrious, the original
drummer appeared to endorse Carling, "probably the Pete Best
lager in the world".

Whether Aspinall knew that this good-natured subversion of
the enterprise was in the offing, he did not say. Well-nigh
unique among those around the Beatles, he never spoke out
but kept the trust of them all and when, in April last year,
he announced that he would be leaving Apple, this was a
simple statement of fact. Some speculated that this was in
fact owing to disagreements about the way in which the
Beatles work was reissued. In fact, the group and its
estates had approved the steady rate at which Aspinall set
about it, and after more than four decades, he was mindful
of a heart problem which made a little more leisure a wise
option.

He understood the Beatles as well as anybody: "We did all
enjoy one another's company and we always had a laugh. That
was one of the big things right through everything, even
today - we enjoy a laugh." As such, he never minded their
invariable habit of calling him Nell.

He is survived by his wife, Suzy, and five children.

Neil Aspinall, business manager for the Beatles, was born on
October 13, 1942. He died after a brief illness on March 24,
2008, aged 65.
(Another great article from Times UK)



~*~ ♥ ~*~


George Martin's letter
œ Although Brian Epstein spent an enormous amount of time trying to get a recording contract for the Beatles, he found that literally every label in England would turn them down, including EMI of which I was a small part. Neil Aspinall was overshadowed by Brian in those days, but his closeness to the Beatles made him the ideal person to take over the reins. He fitted the part as if he were born to it and he astonished the big players in the record business with his acumen. Maybe he said "No"™ too many times, but his overriding thought was always to protect the four Beatles in the frenzy that he had to deal with. No one can imagine the stress of handling the group, for everyone in the world wanted them. His business decisions were sound, and the fact that the Beatles are acknowledged to be the greatest of our stars is his legacy. He was an unassuming and loving family man, and a very good friend, loyal and faithful to the end.
We will all miss him, and so will the world."

George Martin, Coleshill, Wilts



~*~ ♥ ~*~


Also, a letter from another old comrade was printed there
(at which point christine thinks of
rooftopconcert allison)

Neil was an okay guy...very dedicated to his mates The Beatles. He kept their ship afloat though occasional rough seas and managed their finances and new projects brilliantly.
Sometimes his single-mindedness left him misunderstood by those who didn't appreciate his determination to take care of the Beatles legacy.
Sleep well Neil...you've well earned it!!

Sam Leach, Liverpool, Lancashire.



---