Srsly!


CLICK PICS FOR LARGER IMAGES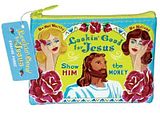 The News Item:
Catholic Outrage Over Jesus Cosmetics
Thursday Feb 14
By ninemsn staff

A Jesus-themed cosmetics range has been pulled from sale in Singapore after several complaints by Catholics.

The "Lookin' Good for Jesus" range was withdrawn from sale at three Topshop retailer stores, the Straits Times newspaper reports.

Catholic customers have complained about the packaging and marketing of the products, saying it trivialised Christianity and was disrespectful.


The products, which are still available on the company's website, encourage you to "get tight with Christ", and include "Virtuous vanilla" lip balm, and bubble bath that makes "you feel like you're walking on water".

There is also a compact mirror which suggests women "please him — for christ's sake — and look your Sunday best".

Catholic Nick Chui spotted the items for sale and was so incensed he wrote a letter of complaint to the store.

"There are also sexual innuendoes in the messages and the way Jesus is portrayed in these products," Mr Chui told the Times.

Singapore has a population of 4.5 million people, of those about 14 percent are Christian according to the CIA's World Factbook.

Wing Tai Holdings, which manages the Topshop brand, took the items off the shelves last month after the complaints.

"We don't want to offend our customers," a company spokesman told the Times.



h V h V h V h

THANKS BE TO
carrotcaper for this story
h V h V h V h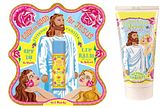 The one that got the eppylover's attention was Jesus looking heavenward while two heavily made-up women (apparently kneeling, their faces at his ...errmmm, lap-level) gaze dreamily up at him ~ as if waiting for a sign? His face has a kind of "any time you're ready, girls!" expression on it.



Hear the 37-second National Public Radio news story [ HERE ]. Click on "Listen Now." It's actually quite dryly humourous (IMHO) ~ complete with jaunty, upbeat background music!

Other places to find this story:
Fox News
MSNBC
BBC News
Christian Today.com

Of course, numerous blogs have taken up the story, such as Oddculture.com ~ who wraps it all up with ~
"The line is still available in the US at Blue Q and other fine retailers. Look good for Jesus while you can, 'cuz who knows if it'll be banned tomorrow!"
Other blogs with opinions and commentary on the Jesus cosmetics fiasco:
yumyumcherry (A girly-girl blog)
beliefnet (Some interesting comments)
The Fire and The Rose (The comment directly following the post is so true)
Jesus' General (Heh, this guy fancies himself kind of a macho religious Stephen Colbert)


After all, as Preemptive Karma says,
"If it's hopeless, and you simply MUST be offended, Blue Q also makes Total Bitch — an apt description of those who refuse to let non-believers have a good laugh now and then."


---