Oh my.



Looks like the Brian Epstein statue will indeed be a reality, barring unforeseen catastrophe.

Feb.1 News Release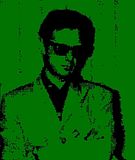 Excerpt:
Liverpool council have agreed his contribution to the city's cultural heritage should be permanently saluted, with possible sites earmarked by scheme promoters Homotopia as Williamson Square, Mathew Street, and Whitechapel.

A motion was proposed by Cllrs Eddie Clein and Steve Rotheram at Wednesday's council meeting.

Cllr Rotheram said: "We wanted to recognise the role he played in Liverpool's musical heritage.

"People who are 50 perhaps know and understand but there's a large cohort who don't know who Brian Epstein is."

But solicitor Rex Makin, a former friend, said: "I think it's rubbish, I don't believe in statues of any kind. He wouldn't have wanted one - Brian was a very private person."
More about this at the forum

Your thrilled eppylover is, however, not a big statue person. Afraid of what they are gonna do with Brian's face... I have VERY seldom seen a depiction that suits him.


---