CLICK PIC TO SEE
VINTAGE MIDTOWN THEATER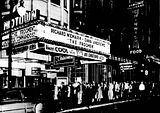 In the following post, I shall expound upon part of a recent comment I made ~ which was ~
I just plain do not watch movies...I can NOT just SIT and let a movie soak into my eyes without getting up constantly to do other things!

Keeping myself occupied online is no problem because of the keyboard; i.e., I've got something to DO ~ I can provide input ~ rather than just sit there like a lame lump and WATCH.
So, speaking of watching movies, there was one strange case when I was 17 (in 1968) when the movie Oliver! was playing at the Midtown Theater in downtown Grand Rapids, a dozen miles away.

I have always hated driving, and will only get behind the wheel under absolutely necessary circumstances. I was especially scared of driving in downtown GR, in those days full of one-way streets, foot traffic and wild teens driving "the circuit" (see "American Graffiti" for an example of the bumper-to-bumper crazy shit that went on with the circuit driving fad).

For some odd reason, I was so in love with Oliver! that I drove down there to see it SEVEN (7) TIMES within the space of about a month, most of the times by myself! I would mouth the dialogue and song lyrics along with the actors ~ quietly enough so that other people really weren't disturbed, but now and then someone noticed me and gave me these amused or strange looks, LOL.

I subsequently bought every Oliver!-related LP I found (I think I have 4 or 5 different ones).

In the ensuing years, when video recorders and videotape and cable TV were invented, I managed to tape the movie off a show channel in NC. By the time DVD's were invented I didn't have the personal money anymore to buy it on DVD. Someday I really should.

The ironic clincher to the story: Imagine my surprise when many years later I discovered that one of Brian Epstein's very, very closest friends indeed was ~~ Lionel Bart, creator of Oliver!



LIONEL BART LIGHTS UP A LENNON

---