*HAPPYDANCE*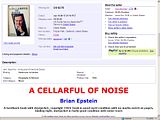 CLICK PIC!


Whoa! What luck! The other original 64 UK Cellarful I own has no dustjacket, pages are yellow and smell musty, and the whole first chapter has bookworm edge damage. And I had paid a lot more for it, too.

I have seen these original 1964 UK versions with dustjacket go for $50-$300.
(Don't even think about the personally-autographed Cellarfuls ~ they're more like $3,000!)

Needless to say, I have been lusting after this book, in this condition, for YEARS.

eppylover ftw!!!!!!!!!!




"I'll buy
Your old crap
Just check
My feedback

"A++!!!"
They all say!
I bought it
On eBay!


BTW, I noticed the pop-up book didn't sell last time, and it has been re-listed. Anyone?


---