The Jewish Chronicle, London
4 January, 2008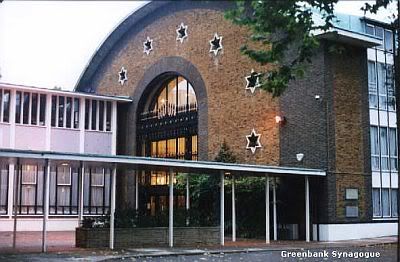 This weekend, Greenbank Drive Synagogue — which counted the family of the late Beatles manager Brian Epstein among its members — will close, 70 years after it was consecrated.

This is the same building where Brian and Clive attended cheder on Sundays for religious studies and to learn Hebrew. When Brian discovered, to his great annoyance, that his boarding school had taught him the wrong parsha for his bar mitzvah, he quickly mastered the new one.

This is the same building in which Brian had astounded the congregation with his mature rendering of Hebrew oratory at his bar mitzvah in 1947. Family members were struck by the unusual level of sophistication displayed by the 13-year-old boy.
"He appeared different, and he was different in the sense that he'd acquired a sort of style about him which was absent in other people in their young years. I can't say exactly what it was, how it came out, but he certainly spoke beautifully."
Quote from Uncle Meier Canter,
husband of Brian's paternal Aunt Stella
"The Brian Epstein Story" by Debbie Geller
Michael Swerdlow, who belonged to the congregation, says that he admired the smartly dressed Epstein men when they arrived at services: "I recall Harry Epstein attending on high holy days and being followed into the synagogue by Brian and Clive, wearing bowler hats, which was quite fashionable for British synagogue goers to wear."

Harry Epstein helped support the synagogue, and the family's reputation was one of financial and social solidity. "Whenever I saw the Epstein family, they looked just like a very Jewish family, the kind I would see in the Bronx or Miami Beach," recalls Nat Weiss, who was later to become one of Brian Epstein's closest friends and a business partner. "Their values were very Jewish."

This was the same building in which Brian served as best man at his brother Clive's marriage to Barbara Mattison in 1964.
[See this photo from the reception of Clive, Barbara, and Brian ~ with Gerry Marsden and Billy J Kramer]

And finally, this was the same building in which the Epstein family, having only a few weeks earlier utilized the synagogue for the funeral of Brian's father Harry, held the same services for Brian himself ~ a gathering which sadly excluded his own Beatles, for fear of turning the solemn occasion into a circus (the Boys instead held their own services for Brian in the New London Synagogue on October 17, 1967).

A sad nostalgic farewell, Greenbank Drive Synagogue.

---