Thanks be to What Goes On for the scoop



CLICK PICS FOR LARGER IMAGES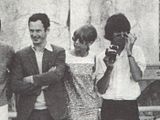 Yesterday morning, a Boston-based "Breakfast With The Beatles" radio show (a rival to our Trini's Los Angeles 95.5 KLOS) spoke live via phone with Pattie Boyd. Of course the eppylover was compelled to listen through the interview for Eppy content.

She was not disappointed, although the precious portion was somewhat brief.

Please listen to the file, and in particular to Pattie's description of Brian Epstein.

TO LISTEN
Go to http://www.wzlx.com/ and scroll down the FEATURED BROADCASTS in the left-hand column ~ then click on Pattie's face.

I sooo WISH there was some way of editing this broadcast to clip out a segment, because I WISH I could save the part about Brian without all the rest of the interview.


In the day, Brian was much better known for being more of a happy fella than the sad poor pitiful soul he is made out to be now.

We must realize that, from time to time, almost EVERYBODY in this world has a deep sadness in the soul ~ when all alone and lonely, or when crying on the shoulder of a close confidante.

Most of the time, though, this mournfulness is not all-encompassing.


Unfortunately, a constant state of heartbrokenness has become Brian's lasting image. This is not helped by the skewed hindsight of friends ~ due to the overwhelmingly tragic circumstances of the last couple months of his life, his troubled side has overshadowed their memories and is now seen as the "main attraction." They cannot help but dwell and concentrate on this aspect, almost cancelling out the memory of his true nature ~ that of grins, laughter, and joie de vivre ~ and with his closest nonjudgemental friends, the sly touch of making fun of himself and the occasional cynical iconoclastic witticism.

So now all we hear is,
"he was a delightful person...
but there was always this melancholy in his eyes..."
or,
"When Brian was "on" he had an amazing sense of humour, and when Brian would come into the room with the four Beatles, it was Brian who was the star. He would light up the room.

He was very good-looking, very well dressed and had this infectious smile. He was filled with witticisms and he could be very funny, and when he started to get funny he became outrageously funny. He was such an iconoclast and nothing was sacred to him.

Then again, when it went the other way, it really went the other way. He was a full roller-coaster ride on any visit."
(Quote from Nat Weiss, The Brian Epstein Story by Debbie Geller, page 111)
etc. etc. etc. People cannot speak of his happy side without justifying it with the sad side. There's always a "but." Except here in Pattie's interview. Thank you, Pattie.

Pattie shows us that today's view of Brian is faulty.


Her sweet description of the usual Eppy, full of life and fun, occurs at almost the halfway point of the interview. Don't miss it. The nuances in her voice cannot be duplicated in the below transcription.

Aw, yeah, the rest of the interview is wonderful, too.
(The Eppy-obsessive Christine waves her hand dismissively as her Beatles-obsessive flisters slap her sillier!) ;P

###


Eppylover's transcription of this interview~
CC: You go out on your first date, and Brian Epstein joins you for your date.

PB: (wistfully) Yes.

CC: What was that like; what was Brian Epstein like?

PB: He was a rather sophisticated and fun character.

He enjoyed life immensely, and he was great fun to be around.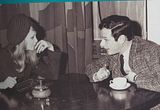 He always seemed far more grown-up than we ever were, and he was like an older brother; I mean, he was glorious fun ~ and he was also a mentor, and a guide, and he introduced us to very fine wines, and great food, and fantastic restaurants. And so he was always great fun to be with.

It was very nice of him to come out with us on our first date; because, you know, being shy as mice, George and I, it was nice to have somebody to kind of "bounce off" ~ and Brian did it admirably.

CC: Yeah, he kinda broke the ice a bit.

PB: (convincingly) Yeah.

CC: (conclusively) Yeah.



~*~ ♥ ~*~ Brian Epstein ~ the older brother of our dreams. ~*~ ♥ ~*~
;D