Hopefully, nobody missed my lack of a Shmooze this shabbos (since it is after sundown now, alas), but still I feel the need to provide something.

Y Y Y Y Y Y Y Y Y Y Y Y
Lennon Done Jewish/Reggae with a touch of Hip Hop
I usually disparage almost all covers of Beatles and afterBeatles songs; however, I was able to listen to this one, at least once ~ and even enjoyed it a bit.



Just enough Jamaican influence was injected to offset the
"Oh look, I'm singing a Beatle song, aren't I wonderful!"
feeling I always get from Fabs cover songs and tribute bands.

According to the blurb,
Matisyahu is offering his fans a download of "Watching The Wheels", a special track he recorded for the Instant Karma album, The Amnesty International Campaign To Save Darfur.

Just their way of thanking you for being such great fans and supporters of Matisyahu, along with bringing as much attention as possible to this most worthy cause.

CLICK HERE for the Matisyahu page where you can nick "Watching The Wheels" for free.

jew jew jew jew jew jew jew jew jew jew jew jew jew jew jew jew jew

EDIT: SORRY YOUTUBE CENSORED THE BELOW VID ~ I HAVE REDIRECTED THE LINK TO ANOTHER SOURCE THAT ENJOYS MORE FREEDOM ~ (so far)

Hilarity Ensuing: Andy Samberg Hearts Mahmoud Ahmadinejad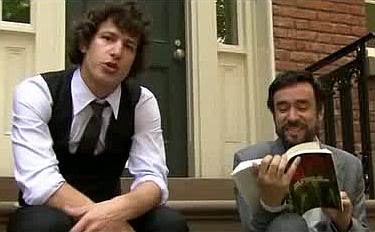 Quote from YouTube user lifeisokay ~
"Not only is this hysterical, but it's also one of the most genuinely infectious melodies to ever couch homosexually-based political satire.

"Incidentally, anyone who doesn't understand why a Jewish comedian would write a mock homosexual love song to someone who denies both the existence of the Holocaust AND the presence of gays in his country is terribly and depressingly dense."

The eppylover cannot agree more. But this vid is still so very WTF!



---
Spread the Eppy Love
~*~ ♥ ~*~
Add Brian Epstein to YOUR list of
LiveJournal Interests
---