From Canada's "chartattack" website:
Stan Lee Transforms Ringo Starr Into An Animated Superhero
Wednesday January 26, 2005 @ 03:30 PM
By: ChartAttack.com Staff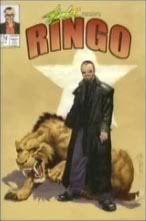 Ringo Starr
Ringo Starr has done it all. He's been a Beatle, headlined his own band of washed-up rock stars, and starred in a children's television show. Now history's most famous drummer will take on his greatest challenge yet — saving the world.
...Starr will be the voice of super-powered Ringo and he also plans to contribute original music to the project. The action in the series will take place around the singer's touring group, The All-Starr Band.

Click green link below for entire Jan 2005 article, which had been deleted by ChartAttack.com, but is cached by the Wayback Machine (web.archive.org).
=====================
eppylover sez: But! I am insulted by the last sentence in the original ChartAttack article!
---
Here's another SuperStarkey article from Jan 2005 ~
(
Read more...
Collapse
)