From Canada's "chartattack" website:
Stan Lee Transforms Ringo Starr Into An Animated Superhero
Wednesday January 26, 2005 @ 03:30 PM
By: ChartAttack.com Staff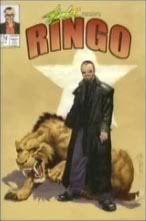 Ringo Starr
Ringo Starr has done it all. He's been a Beatle, headlined his own band of washed-up rock stars, and starred in a children's television show. Now history's most famous drummer will take on his greatest challenge yet — saving the world.
...Starr will be the voice of super-powered Ringo and he also plans to contribute original music to the project. The action in the series will take place around the singer's touring group, The All-Starr Band.

Click green link below for entire Jan 2005 article, which had been deleted by ChartAttack.com, but is cached by the Wayback Machine (web.archive.org).
=====================
eppylover sez: But! I am insulted by the last sentence in the original ChartAttack article!
---
Here's another SuperStarkey article from Jan 2005 ~
New Superheros From Stan Lee and Ringo Starr Team
Huh? Stan Lee's POW! Entertainment has forged a joint venture partnership with Ringo Starr to create and launch an original entertainment franchise. Financed, produced and distributed by IDT Entertainment, the new animation will transform Ringo Starr into an evil-battling, earth-saving (though reluctant) superhero with a great sense of rhythm.
Legendary comic book creator Stan Lee and his new company Stan Lee's POW! Entertainment will develop the superhero project with Ringo and his entertainment company Rocca Bella for television, home entertainment/DVD, publishing and all categories of licensing and merchandising. Production on the animated series will begin in 2005 with a planned DVD roll-out first quarter of 2006. Executive Producers for POW! Entertainment are Stan Lee and COO, Gill Champion. Executive Producer for Rocca Bella is Marjorie Bach. IDT Entertainment COO, John Hyde will supervise production.

Stan Lee, the creative force responsible for such world-renowned comic book characters as Spiderman, Fantastic Four, the X-Men and The Hulk, will base the superhero on Ringo's famed persona. Ringo will lend his voice to his animated superhero character.

"Ringo is beloved worldwide for his commitment to people and his singular wit. Our Ringo Superhero character will combine these qualities, along with Ringo's secret powers which people generally didn't know about because he has kept them secret, until now," said Stan Lee, who also serves as POW's Chief Creative Officer.

"What a blast this'll be! Ringo Starr is one of the most colorful, creative guys I know. Between the two of us, we've cooked up enough wild ideas for music, humor, action and superhero surprises in our new animated project, featuring the rollicking, ringed and bearded Ringo, to keep the fans happy and excited for years to come," Stan Lee added.

"This is going to be one of the most exciting adventures I've had all day!!!," said Ringo. "What a terrific opportunity to meet and work with the great Stan Lee. I'm so excited to become a 'reluctant superhero'. How great to hang out with Stan and laugh, laugh, laugh, as we're in the first stages of creating this soon to be masterpiece. Adding music to this adventure is something I am also looking forward to. See you in animation land -- soon!"

Steve Brown, Chairman of IDT Entertainment added, "We all feel that Ringo is one of the great personalities of our time. This is a wonderful opportunity and we truly look forward to working with him on this exciting project."

Said Gill Champion, COO POW! Entertainment: "The combination of these two global icons to create a new form of animation utilizing the folklore of Ringo coupled with the Superhero know-how of Stan Lee is a natural. We see this as building a global business that combines great animation, clever story telling, an original musical score, licensing and merchandising, as well as the other ancillary opportunities to support the venture."

Marjorie Bach, executive producer for Rocca Bella, said: "I am excited and honored to work with such extraordinary talent. Ringo is not just a legendary drummer and musician but also an extremely talented artist and storyteller. Stan Lee invented the modern superhero, revived a dying industry and created a mythology. What a team! This animated project will allow us the freedom to create fantasy worlds based on Ringos' superhero character that will delight and inspire everyone, from the children of the 60's to the kids of today."
Okay, this idea defies words! I'm speechless ;-) If (unbelievably so) it ever becomes popular and the movie rights are sold, who will play Ringo? Colin Farrell? ;-)
Posted by: Agitator!!, January 26, 2005, 12:25 pm
on Digital Silence