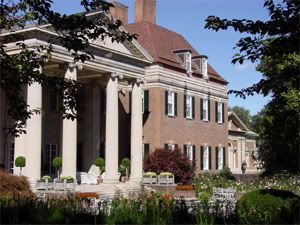 Remember the fiasco at the British Embassy in Washington, DC on February 11, 1964, when The Beatles were pushed around and disrespected by the haughty elite at a charity ball hosted by British ambassador Baron Harlech and his wife Lady Sylvia Ormsby-Gore? Our boys were mauled to the point of a lock of poor Ringo's hair getting snipped off by the wives, and rude comments being made by the diplomats.

Well, there were lies told and secrets kept about that little disaster ~ and now these new revelations have finally come out due to British Foreign Office files being declassified.

From Scotsman.com
MARC HORNE | Sun 12 Aug 2007

IT was a very un-British to-do hushed up by a diplomatic silence. As the Fab Four entered the building they were mobbed and mauled by screaming fans who managed to snip off a lock of Ringo Starr's hair.

But the hysterical, baying crowd was not made up of starry-eyed Scouse schoolgirls, but the ballgown and tiara-wearing wives of Her Majesty's diplomatic corps in Washington DC.


A dignified soiree at the British Embassy descended into chaos when the arrival of the Beatles led the frightfully well-heeled and usually impeccably mannered guests to launch into a frenzy of decidedly undiplomatic behaviour.

Now, nearly half a century later, declassified Foreign Office files have revealed concerted efforts to play down the unseemly incident and insist it never happened.

Closed government papers on the anarchic ambassadorial reception, which led the disgruntled mop tops to state that the toffs were "worse than the kids", have been opened to the public and placed in the UK National Archives in Kew, London. The files relate to the events which took place on February 11, 1964, at a charity ball at the British Embassy hosted by British ambassador Baron Harlech and his wife Lady Sylvia Ormsby-Gore.

The Beatles, who had recently hit No1 on both sides of the Atlantic with 'She Loves You' and 'I Want To Hold Your Hand', were invited as "honoured guests" after playing a sell-out concert at the Washington Coliseum.

An eye-witness report by an American journalist claimed there was mayhem at the event, which was attended by "several hundred diplomats and their wives". He claimed the arrival of the Beatles was greeted by raucous shouts of "yeah, yeah, yeah" before they were engulfed by a "concerted charge" from revellers.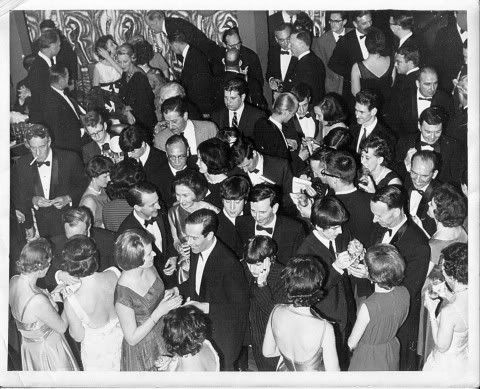 The report states that John Lennon was pushed and pulled by a "rugby scrum of young Foreign Office officials" while George Harrison was grappled into a corner by dozens of bawling autograph hunters in formal dress.

An irate Ringo was quoted as saying: "Someone just cut off a piece of my hair. I'm ruddy mad. This lot here are terrifying. Much worse than the kids."

After being wrestled to safety, the band were forced to honour a pledge to hand over the prizes in a grand raffle.

In a show of sardonic defiance the band conducted the draw in "mock Etonian" accents and apparently informed a bemused middle-aged guest, who had won a Beatles LP, that he could always exchange it for something by Frank Sinatra.

Lady Ormsby-Gore was said to have issued an apology to the four as they left, stating: "I really am terribly sorry about the scene in the ballroom."

Joan Quennell, the then Conservative MP for Petersfield, got wind of the incident and wrote to foreign secretary Rab Butler demanding to know if it was true that "the young British entertainers known as the Beatles" had been manhandled by officials in Washington.

Foreign Office mandarins assured Quennell that "no manhandling took place", but added in private deliberations: "To say more would merely be to provide ammunition for press comment."

Baron Harlech was asked to give his version of events and in a letter to his superiors in London he claimed the evening had been nothing less than an unmitigated and unblemished success.

In the letter dated February 19, 1964, he states: "The Beatles were received with friendly enthusiasm, not only by members of the Embassy and their American friends, but also by members of the press and news photographers.

"I am assured that the suggestion they were manhandled by anyone is untrue."

To back up his case, he enclosed a letter purportedly written by Brian Epstein, the Beatles' manager, which states:

"I did want to thank you so much on behalf of the Beatles and myself for your hospitality in Washington. We had a delightful evening."

Bizarrely, however, Epstein's surname is written as "Eppstein" in the note.
Eppylover note:
My guess is that either Brian resignedly dictated this spur-of-the-moment thank-you note to some unfamiliar secretary assigned to him during the U.S. tour and didn't bother or have time to sign it himself ~

~ or, the British Embassy made the whole note up themselves, knowing full well Mr Epstein would be crazy upset with their presumptuousness, but wouldn't want to start a war about it ~

~ Or, third theory, he intentionally misspelt his own name, as a show of subtle contempt for the whole incident.
The Foreign Office file on the incident clearly acknowledges the hair snipping incident did take place, but officials sought to put the blame elsewhere.

Mandarins cite a cutting from a provincial Canadian newspaper called the Oshawa Times, in which teenage music fan Beverly Markowitz claims she managed to sneak into the party and was responsible for cutting the drummer's locks.

Foreign Office official JE Kilick notes: "Since one of the allegations was that a diplomat or his wife had snipped off a lock of Ringo Starr's hair, this would appear to be evidence to disprove that."

Despite official denials, the Beatles themselves were in no doubt about the uncivil and rambunctious reception they received in the American capital.

Speaking on American radio in 1983, Starr recalled: "I had a horrendous time. We didn't know anyone and most of the people there didn't relate to music in any shape or form.

"After they had a few drinks they got really silly and one guy decided he'd cut a lock of my hair off. I just started screaming at him and we didn't stay there for long. These diplomats just don't know how to behave."

Paul McCartney has also dismissed the 'official' Foreign Office version of events.

Speaking during the recording of the Beatles Anthology TV series in 1995, he said: "There were quite a few Hooray Henrys at the Embassy. I also remember people wanting to cut bits off our hair, which was not on. There were a few little elbows in gobs that night."

Mexico standoff
It may have offended only a handful of curmudgeonly retired colonels here, but the decision to award honours to the Beatles threatened to cause a diplomatic spat between Britain and Mexico.

In 1965, in a bid to shore up his image with young voters, Labour prime minister Harold Wilson took the decision to give the Beatles the MBE.

But Foreign Office files, which have recently been opened to the public for the first time, reveal that the Queen's honouring of the band caused widespread outrage in Mexico.

On June 24, 1965, Sir John Cheetham, UK ambassador to Mexico, wrote to the Foreign Office in London warning of rising anti-British sentiment and even a threat to trade.

He states: "In Mexico [the award] has given rise to an inordinate amount of adverse comment. Indeed it is the major topic here.

"The consensus is that the award is a sign of British decadence. One influential paper asked in a headline if the English have gone mad."

This story was also repeated by NME

A somewhat differently-worded report can be found written up by The Independent


~*~*~


For the old accounts that were all we had to go by ~ as claimed by the boys and others previous to this recent revelation ~ see [ THIS PAGE ].

Which all goes to prove that some of the diplomats who were there, such as this bloke now in his 70's, have been fibbing for over four decades!

Quote from the above-linked old geezer's site:
This was a good night. Mary and I had enjoyed the Beatles earlier at the Washington Coliseum. It was their first road Concert following the Ed Sullivan Show.

The visit to the Embassy was a surprise. Everyone crowded in to the Rotunda where Lady Harlech was the Hostess, and half the folks weren't even aware of the famous guests being there. Mary is seen talking with Paul and getting his autograph. Can you spot the other three Beatles?

Poor Ringo! He'd just had his hair clipped in the entrance hall off to the right. An American girl was the culprit. She had gate-crashed the party with a local Disc Jockey. I was standing right behind Ringo when she did it. The look he gave her was certainly less than friendly, but he kept his temper and carried on signing autographs. Fair play Ringo.
Augghhh. Lying bahstid.


---