(We attended the 2pm performance ~ click pic of the stadium for the radio station print ad)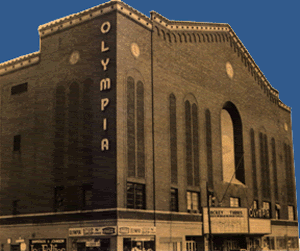 Most of you have probably already seen these ~ but for the sweet flisters who have come on board u.s.s. eppylover since Nov 2006, here's the 1966 Detroit Concert Post

Enjoy!

To the best of my ability, I enlarged and tried to clarify the area of the balcony behind George Harrison in [ THIS PHOTO ] taken by a professional photographer at the same concert we attended, in approximately the same area of the audience that we would have been sitting.




I feel fairly certain that the people the arrows are pointing at were me and Lezlie. Note the two bright dots that indicate where my binoculars would be.

Chazz Avery of The Savage Young Beatles and BeatleSource sent the photo to me that let me "find myself" so to speak. Thanks, Chazz! :D

I would love to get my hands on a first-generation print made from the original negative, and scan it using my scanner's "magazine" setting ~ which creates the highest resolution result I've ever seen. Betcha we'd be recognizable then!

Detroit's WKNR radio ~ nicknamed "Keener13" ~ has a page devoted to their connection with The Beatles which is quite interesting. [ HERE ]

And Happy Beatle Concert Anniversary, Karin, Lezlie and Carole ~ wherever you are now!

---

ETA ~ Just found an aircheck ~
Beatles interviewed by WKNR after their concert in Detroit!
http://www.keener13.com/airchex/BeatlesInDetroit.mp3 8.1 MB
Key quote:
"John, would you want your son to be a Beatle?"
"No, what would be the point? It'd be outdated!"

Hear more airchecks at http://www.keener13.com/airchex/Default.asp


---