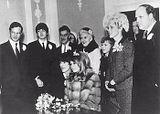 The Mail's website sneakily switched urls on us for the Page One of the article.
I'm not in the habit of overdoing Beatles materials at the expense of Brian materials, but I feel sheepish about yesterday's bad link.

HERE is where the article is found today. Sorry for your inconvenience!
To make sure they don't pull another fast one on me, I shall also copy/paste the article here ~
~ Plus a few pics and my comment I hope they print...

~

Unfortunately, The Mail seems to feel its article titles must appear appropriately tawdry and tabloidy, but here goes:

---

Pattie Boyd: 'My hellish love triangle with George and Eric' - Part One
BY PATTIE BOYD - Last updated at 08:58am on 6th August 2007

George Harrison wrote the love song "Something" for his wife Pattie Boyd. Eric Clapton wrote "Layla" for her. Theirs was the most extraordinary love triangle in rock history.

Now, after four decades of silence, the woman who drove two music legends wild tells the raw, unexpurgated story of her life...

We met secretly at a flat in South Kensington. Eric Clapton had asked me to come because he wanted me to listen to a new number he had written.

He switched on the tape machine, turned up the volume and played me the most powerful, moving song I had ever heard. It was Layla, about a man who falls hopelessly in love with a woman who loves him but is unavailable.

He played it to me two or three times, all the while watching my face intently for my reaction. My first thought was: 'Oh God, everyone's going to know this is about me.'

PHOTO #1 captioned "High minds: George and Pattie pictured shortly before they broke up"

I was married to Eric's close friend, George Harrison, but Eric had been making his desire for me clear for months. I felt uncomfortable that he was pushing me in a direction in which I wasn't certain I wanted to go.

But with the realisation that I had inspired such passion and creativity, the song got the better of me. I could resist no longer.

That evening I was going to the theatre to see Oh! Calcutta! with a friend and then on to a party at the home of pop impresario Robert Stigwood. George didn't want to go to the show or the party.

After the interval at Oh!Calcutta! I came back to find Eric in the next seat, having persuaded a stranger to swap places with him. Afterwards we went to Robert's house separately but we were soon together. It was a great party and I felt elated by what had happened earlier in the day but also deeply guilty.

During the early hours, George appeared. He was morose and his mood was not improved by walking into a party that had been going on for several hours and where most of the guests were high on drugs.

He kept asking 'Where's Pattie?' but no one seemed to know. He was about to leave when he spotted me in the garden with Eric. It was just getting light, and very misty. George came over and demanded: 'What's going on?' To my horror, Eric said: 'I have to tell you, man, that I'm in love with your wife.'

I wanted to die. George was furious. He turned to me and said: 'Well, are you going with him or coming with me?'

I had met George six years previously, in 1964, when he was filming A Hard Day's Night. Britain and most of Europe was in the grip of Beatlemania.

John Lennon, Paul McCartney, George Harrison and Ringo Starr were mobbed everywhere they went, and at their concerts thousands of hysterical teenagers cried and screamed so loudly that no one could hear the music.

Shortly before they started shooting A Hard Day's Night, The Beatles took America by storm. In February 1964 they appeared on The Ed Sullivan Show, one of America's most prestigious programmes, and attracted an audience of 73million.

I was a model, working with some of the most successful photographers in London, including David Bailey and Terence Donovan. I was appearing in newspapers and magazines such as Vanity Fair and Vogue, but in March my agent sent me along to a casting session for a film.

She called later to tell me I had been offered the part of a schoolgirl fan in a Beatles film. On first impressions, John seemed more cynical and brash than the others, Ringo the most endearing, Paul was cute and George, with velvet-brown eyes and dark chestnut hair, was the best-looking man I had ever seen. At a break for lunch I found myself sitting next to him. Being close to him was electrifying.

Almost the first thing he said to me was: 'Will you marry me?' He was joking but there was a hint of seriousness. We got together soon after that and married two years later on January 21, 1966. I was 21, he was 22. I was so happy and so much in love. I thought we would be together and happy for ever.

PHOTO #2 captioned "Honeymoon: Pattie and George in Barbados"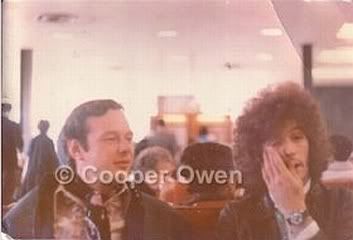 Brian Epstein in London Airport with Eric Clapton (then of Cream), Summer 1967

Three years later, in 1969, George wrote a song called Something. He told me in a matter-of-fact way that he had written it for me. I thought it was beautiful and it turned out to be the most successful song he ever wrote, with more than 150 cover versions.
Frank Sinatra said he thought it was the best love song ever written. George's favourite version was the one by James Brown. Mine was the one by George Harrison, which he played to me in our kitchen.

But, in fact, by then our relationship was in trouble. Since a trip to the Maharishi Mahesh Yogi's ashram in India in 1968, George had become obsessive about meditation. He was also sometimes withdrawn and depressed.

My moods started to mirror his and at times I felt almost suicidal. I don't think I was ever in any real danger of killing myself but I got as far as working out how I would do it: put on a diaphanous Ossie Clark dress and throw myself off Beachy Head.

And there were other women, which really hurt me. George was fascinated by the god Krishna who was always surrounded by young maidens. He came back from India wanting to be some kind of Krishna figure, a spiritual being with lots of concubines. He actually said so.

No woman was out of bounds. I was friendly with a French girl who was going out with Eric Clapton. When she and Eric broke up, she came to stay with us at our house, Kinfauns, in Esher, Surrey.

She didn't seem remotely upset about Eric and was uncomfortably close to George. Something was going on between them but when I questioned George he told me my imagination was running away with me, that I was paranoid.

I left to stay with friends and within days George phoned to say the girl had gone. I returned home but I was shocked that he could do such a thing to me. I felt unloved and miserable.

PHOTO #2 captioned "Chilled: George relaxes in India in 1968"

It was around this time that Eric began to come over to our house. He and George had become close friends, writing and recording music together.
Eric's guitar playing was held in awe by his fellow musicians. Graffiti declaring 'Clapton is God' had been scrawled on the London Underground, and he was an incredibly exciting performer to watch. He looked wonderful on stage, very sexy.

But when I met him he didn't behave like a rock star – he was surprisingly shy and reticent. I was aware that Eric found me attractive and I enjoyed the attention he paid me.

It was hard not to be flattered when I caught him staring at me or when he chose to sit beside me. He complimented me on what I was wearing and the food I had cooked, and he said things he knew would make me laugh. Those were all things that George no longer did.

One night in December 1969 I took my 17-year-old sister Paula to see Eric play in Liverpool. Paula was very pretty and a bit of a wild child, and that night Eric fell for her. After the show we all went to a restaurant and everyone was quite drunk and raucous. When the rest of us went back to the hotel, we left Eric and Paula dancing.

The next night Eric was playing in Croydon and again Paula and I went to watch, and again there was a wild after-show party, this time at Eric's Italianate manor house, Hurtwood Edge in Ewhurst, Surrey. Soon after, Paula moved in with Eric.

In March 1970, George and I moved into a new house. Friar Park was a magnificent Victorian Gothic pile near Henley-on-Thames, Oxfordshire, with 25 bedrooms, a ballroom, a library, a formal garden of 12 acres and a further 20 acres of land.

PHOTO #3 captioned "Relaxed: Eric drinks in the garden of Pattie and George's Friar Park home"

One morning shortly after moving in, a letter arrived for me with the words 'express' and 'urgent' written on the envelope. Inside I found a small piece of paper. In small, immaculate writing, with no capital letters, I read: 'dearest l,'as you have probably gathered, my own home affairs are a galloping farce, which is rapidly degenerating day by intolerable day . . . it seems like an eternity since i last saw or spoke to you!'

He needed to ascertain my feelings: Did I still love my husband or did I have another lover? More crucially, did I still have feelings in my heart for him? He had to know, and urged me to write. 'please do this, whatever it may say, my mind will be at rest . . .'all my love, e.'

I assumed it was from some weirdo.

I got fan mail occasionally – when I wasn't getting hate mail from George's fans. I showed it to George and others who were at the house. They laughed and dismissed it, as I had.

That evening the phone rang. It was Eric. 'Did you get my letter?' he asked.


---

Pattie Boyd: 'My hellish love triangle with George and Eric' - Part Two
BY PATTIE BOYD - Last updated at 23:07pm on 4th August 2007

'Letter?' I said. 'I don't think so. What letter are you talking about?'

Then the penny dropped. 'Was that from you? I had no idea you felt that way.' It was the most passionate letter anyone had ever written to me and it put our relationship on a different footing. It made the flirtation all the more exciting and dangerous. But as far as I was concerned, it was just flirtation.

From time to time during the spring and summer of 1970, Eric and I saw each other. One day, walking down Oxford Street, he asked: 'Do you like me, then, or are you seeing me because I'm famous?'

'Oh, I thought you were seeing me because I'm famous,' I said. We laughed.

He always found it difficult to talk about his feelings, instead pouring them into his music and writing.

Once we met under the clock in Guildford High Street. He had just come back from Miami and had a pair of bell-bottom trousers for me – hence the track Bell Bottom Blues. He was tanned and looked gorgeous and irresistible – but I managed to resist him.

PHOTO #4 captioned "Dream girl: Pattie modelling in 1964"

On another occasion I drove to Ewhurst and we met in the woods nearby. Eric was wearing a wolf coat and looked very sexy. We didn't go to his house because someone would have been there. A lot of people lived at Hurtwood Edge: his band, the Dominos, Paula and Alice Ormsby-Gore, another of Eric's girlfriends.

The convent girl in me found the situation uncomfortable but strangely exciting, and so it was later that year after Eric had played me Layla in the South Kensington flat that I succumbed to his advances.

After George and Eric's confrontation at Robert Stigwood's party, I went home with my husband. Back at the house I went to bed and George disappeared into his recording studio.

The next time I saw Eric, he turned up unexpectedly at Friar Park. George was away – I don't know whether Eric knew that in advance – and I was on my own. He said he wanted me to go away with him: he was desperately in love with me and couldn't live without me. I had to leave George right now and be with him.

PHOTO #5 captioned "Happy days: Pattie's own photo of Paul, Ringo and John in 1968"

'Eric, are you mad?' I asked. 'I can't possibly. I'm married to George.'

He said: 'No, no, no. I love you. I have to have you in my life.'

'No,' I said.

He produced a small packet from his pocket and held it out towards me.

'Well, if you're not going to come away with me, I'm going to take this.'

'What is it?'

'Heroin.'

'Don't be so stupid.' I tried to grab it from him but he clenched his fist and hid it in his pocket.

'If you're not going to come with me,' he said, 'that's it. I'm off.'

And he went. I hardly saw him for three years.

He did as he threatened. He took the heroin and quickly became addicted. And he took Alice Ormsby-Gore with him.

Eric already did a lot of drugs, the ones we all used – marijuana, uppers, downers and cocaine – and he drank quite heavily too. But his dealer had been insisting recently he bought heroin when he supplied him with cocaine.

Eric had been using it infrequently for about a year and had amassed a big pile. He now set about using it. He and Alice retreated into Hurtwood Edge and pulled up the drawbridge. He didn't leave the house, he didn't see friends, he didn't answer the door or the telephone, and the two of them sank into virtual oblivion.

By this time Paula had gone. She had been with Eric in Miami when he was recording Layla and knew instantly it was about me. She had always had a suspicion he was with her only because she was the next best thing to me and I was unobtainable. Hearing Layla confirmed it.

PHOTO #5 captioned "Love rivals: (Left to right) Eric and George" (well, duh, sez eppylover!)

She had been seriously in love with Eric, but he destroyed her pride, her self-esteem and her confidence, which were already fragile.

On top of that, her big sister was the last person to whom she could turn for comfort. I tried to telephone Eric but Alice always answered, so I hung up.

I turned my attention to my husband and to renovating Friar Park. For a brief period the project united us but the house was so enormous, and there were always so many people living in it, that we never had any intimacy. Most of the time, even when George was in the house, I didn't know where he was.

At meal times, too many other people were at the table for us to have any real conversation. And even though we shared a bed, he was often in his recording studio or meditating half the night in the octagonal room at the top of the house that had become his sanctuary.

I felt more and more alienated. I didn't feel included in George's thinking or his plans. I wasn't his partner in anything any longer. He was surrounded by yes-men. When I challenged him about it he said: 'Well I'd hate to be surrounded by no-men.'

I heard from Eric again in January 1971, two months after he had walked out vowing to take the heroin. He wrote to me from a cottage in Wales.

On the title page of a copy of Steinbeck's Of Mice And Men, he had written: 'dear layla, for nothing more than the pleasures past i would sacrifice my family, my god, and my own existence, and still you will not move. i am at the end of my mind, i cannot go back and there is nothing in tomorrow (save you) that can attract me beyond today. i have listened to the wind, i have watched the dark brooding clouds, i have felt the earth beneath me for a sign, a gesture, but there is only silence. why do you hesitate, am i a poor lover, am i ugly, am i too weak, too strong, do you know why? if you want me, take me, i am yours . . . 'if you don't want me, please break the spell that binds me. 'to cage a wild animal is a sin, to tame him is divine. 'my love is yours.'

It was signed with a heart. That one short note stirred up feelings I had spent two months suppressing. I wrote and told him what he wanted to hear.

'How are you? I hope the Welsh air has been soothing your mind and warming your heart. Oh, I so long to spend some time with you there . . . it would be beautiful to be together, just for a while.

'If the stars should suddenly change their course and I can come to Wales I'll send a telegram. Please take care of yourself. 'Moons full of love 'L'

As soon as I had posted the letter I had terrible doubts and immediately wrote a postcard. It simply said: 'Hullo, Please forgive and forget my bold suggestion.'Love L'

His reply came by return of post on the dust jacket of a book of Scottish ballads and was written in green ink.

'it was rather significant that i received both communications on the same morning. something like watching a boomerang in flight.'

He said he understood my situation and didn't know what to recommend.

'i love you even though you're chicken.'

Nothing came of our fantasies and I didn't see or speak to him again until August 1971. George had persuaded him to come out of Hurtwood Edge briefly to perform at a charity event, Concert For Bangladesh, in New York.

Eric was in a bad way but George thought that if he got him on stage, even propped up with drugs, his addiction would become an open secret and maybe he would open the door a little to his friends, who might be able to help.

Everyone knew that if Eric was to have a chance of getting through two performances – one in the afternoon and another that evening – he would need a supply of heroin when he arrived in New York.

I remember discussions about finding a really good one, called White Elephant, for him. It had to be very pure because he never injected – he was terrified of needles – but snorted it instead, as if it was cocaine, from a gold spoon he wore round his neck. Alice found it – she always did the scoring.

While they were living at Hurtwood Edge, she went to London to do the sordid business of getting supplies while Eric stayed at home. If ever they ran short, she would give him her share and take something else. She was drinking at least two bottles of vodka a day so he could have the heroin.

That day he and I scarcely spoke. He was surrounded by people, then on stage, and he was very out of it; I'm not sure he really saw me. It was a shock to think that he had done this to himself because of me. At first I felt guilty, then my feelings would swing violently the other way and I was angry that he should have asked me to choose between him and my husband.

PHOTO #6 captioned "Still standing: Pattie Boyd as she is today

When the concert was over, Eric and Alice went back to the horrors of their self-imposed prison at Hurtwood Edge. Pete Townshend of The Who was the only friend who refused to take no for an answer and went to the house so often that eventually Eric had to see him.
Pete persuaded him to perform at another charity concert, this time at Finsbury Park, North London.

The show in 1973, billed as Eric's comeback, was a triumph. I was sitting in the audience with George, Ringo, Elton John, Joe Cocker and Jimmy Page. Eric didn't look well – his addict's diet of junk food and chocolate had made him put on weight.

As I heard the opening wail of Layla, the first number of the evening, then the lyrics, my blood ran cold. He might have been wrecked for the previous three years but he hadn't forgotten how to tear at the heart-strings with his guitar.

All the emotion I had felt for him when he disappeared from my life welled up inside me.

The show reminded Eric there was an alternative to his life as an addict and eventually he agreed to accept treatment. He got off the heroin – and went straight on to alcohol.

He became a regular visitor to Friar Park and professed his love for me with increasing vigour. Letters arrived almost daily in which he pleaded with me to leave George and be with him.

Meanwhile, things between George and me were going from bad to worse. I don't know what his feelings were about Eric when he reappeared in our lives.

We had been so stoned on the night of Robert Stigwood's party that he might have forgotten about the confrontation in the mist, but I don't think so. George never spoke about it but after that night I think he felt he could be as blatant as he liked in his pursuit of other women.

In spring 1973 we were supposed to go on holiday together. The day before we were due to leave, George said he wasn't feeling well and couldn't go. He ended up going to Spain, supposedly to see Salvador Dali, with Ronnie Wood's wife, Krissie.

Ronnie, then bass guitarist with The Faces, and Krissie were friends of ours who often came to stay at Friar Park. I was desperately hurt: another of my friends was sleeping with George.

When I challenged him he denied it.

I went to the Bahamas instead with my sister Paula, who was battling her own heroin addiction. While there we had a call from Ronnie Wood. He was on tour and said he might come to see us for a few days. He didn't seem upset that his wife was with George – he just thought it was funny they had gone to see Dali.

Ronnie is the most adorable man, and maybe at that moment some fun, laughter and a pair of comforting arms were what I needed.

The final straw for George and me was his affair with Ringo's wife, Maureen. She was the last person I would have expected to stab me in the back.

I discovered from some photos that she had been staying in the house with George while I had visited my mother in Devon. He had given her a beautiful necklace, which she wore in front of me.

Then I found them locked in a bedroom at Friar Park. I stood outside banging on the door yelling: 'What are you doing? Maureen's in there, isn't she? I know she is!' George just laughed.

Eventually he opened the door and said: 'Oh, she's just a bit tired so she's lying down.'

I went straight to the top of the house and lowered the flag bearing the om symbol that George had been flying from the roof and hoisted a skull and crossbones instead. That made me feel much better.

Maureen wasn't even prepared to be subtle. She would turn up at Friar Park at midnight and I would say: 'What the hell are you doing here?' 'I've come to listen to George playing in the studio.' 'Well, I'm going to bed.' 'Ah, well, I'm going to the studio.'

The next morning, she'd still be there, and I'd say: 'Have you thought about your children? What are you up to? I don't like it.'

'Tough,' was her response.

Ringo didn't have a clue what was going on until I rang him one day and said: 'Have you ever thought about why your wife doesn't come home at night? It's because she's here!' He flew into a rage.

George continued to pretend that nothing was going on and would leave me feeling as though I was becoming paranoid.

I felt undermined and unloved and George was so terribly difficult to talk to. He had become worse in the last year, maybe because Eric kept coming around and making it obvious that he wanted to see me. George must have sensed we were having an affair but he never said so.

One evening the actor John Hurt was with us. Eric was due to come over too and George decided to have it out with him. John wanted to make himself scarce but George insisted he stay.

John remembers George coming downstairs with two guitars and two small amplifiers, laying them down in the hall, then pacing restlessly until Eric arrived – full of brandy, as usual.

As Eric walked through the door George handed him a guitar and amp – as an 18th Century gentleman might have handed his rival a sword – and for two hours, without a word, they duelled. The air was electric and the music exciting.

At the end, nothing was said but the general feeling was that Eric had won. He hadn't allowed himself to get riled or to go in for instrumental gymnastics as George had. Even when he was drunk, his guitar-playing was unbeatable.

That whole period was insane. Friar Park was a madhouse. Our lives were fuelled by alcohol and cocaine, and so it was with everyone who came into our sphere. We were all as drunk, stoned and single-minded as each other. Nobody seemed to have appointments, deadlines or anything pressing in their lives, no structure and no responsibilities.

Cocaine is a seductive drug because it makes you feel euphoric and good about yourself. It takes away your inhibitions and makes even the shyest, most insecure person feel confident.

And we had so much energy – everyone would talk nonsense for twice as long and drink twice as much because the cocaine made us feel sober. George used cocaine excessively and I think it changed him.

Marijuana wasn't destructive. Dope in the Sixties – a very different drug from the skunk kids smoke today – was about peace, love and increasing awareness. Cocaine was different and I think it froze George's emotions and hardened his heart.

On New Year's Eve in 1973, Ringo held a party at his home. George went ahead of me and when I arrived he said: 'Let's have a divorce this year.'

In 1974 George told Ringo that he was in love with his wife. Ringo worked himself up into a terrible state and went about saying: 'Nothing is real, nothing is real.'

I was furious. I went straight out and dyed my hair red.

In June that year, I returned home one evening to find Eric, Pete Townshend and Graham Bell, another musician, larking around at our house.

I made them dinner, which we ate amid forced jollity, then Eric took me aside and pleaded with me again to leave George. We were alone together for what felt like hours, and he was so passionate, desperate and compelling that I felt swamped, lost and confused.

I had to make a choice. Would I go to Eric, who had written the most beautiful song for me, who had been to hell and back in the last three years because of me and who had worn me down with his protestations of love?

Or would I choose George, my husband, whom I had loved but who had been cold and indifferent towards me for so long that I could barely remember the last time he'd shown me any affection or told me he loved me?

That night Eric left and went off almost immediately to America on tour. On July 3 I told George I was leaving him. It was late at night and I went into the studio and explained that we were leading a ludicrous and hateful life, and that I was going to America. When he came to bed, I could feel his sadness as he lay beside me. 'Don't go,' he said.

Half of me wanted to stay and to believe him when he said he would make it better, but I was at the end of my tether.

The next day, with a great sadness in my heart, I packed some things, said a tearful goodbye to Friar Park and flew to America. What I had felt for George was a great, deep love. What Eric and I had was an intoxicating, overpowering passion.

It was so intense, so urgent, so heady, I felt almost out of control. Having made the decision to leave my marriage, I knew I had to be with him, go everywhere with him, do everything he did, keep up with him in every way. Which, on that tour of America in 1974, meant drinking.

Wonderful Today, by Pattie Boyd with Penny Junor, is published by Headline Review on August 23, priced £20. To order your copy at the special price of £18 with free p&p, call The Review Bookstore on 0870 165 0870.


---

Just in case The Mail decides to make this excerpt unavailable also, I quickly copied/pasted it, too:

The Brian part of Pattie's book excerpt carries the tabloidy title:

"George had to ask Brian Epstein for permission to marry me"

On my first date with George we went to the Garrick Club in Covent Garden.

Brian Epstein, The Beatles' charismatic manager, came with us. He was slightly older, better educated and more worldly wise than John, Paul, George and Ringo.

He was also much more to them than a manager: he had discovered them in Liverpool, shaped them and harnessed their talent, but he had also become a father figure and kept a close eye on everything they did.

I didn't resent his presence on our first date – he was good company and seemed to know everything about wine, food and restaurants.

And perhaps if George and I, two young, shy people, had been on our own in such a grown-up restaurant, it would have been too intense.

As it was, we had a lovely evening and sat side by side on a banquette listening to Brian, hardly daring to touch each other's hand.

One evening in December 1965, George and I were driving through London when he said: 'Let's get married. I'll speak to Brian.'

He stopped the car outside Brian's house in Chapel Street, Belgravia, and rushed inside, leaving me in the car. He came back 15 minutes later and said: 'Brian says it's OK. Will you marry me? We can get married in January.'

'Oh, yes,' I said. 'That would be fabulous!' I was thrilled – but George had had to ask Brian's permission in case a Beatles tour was planned.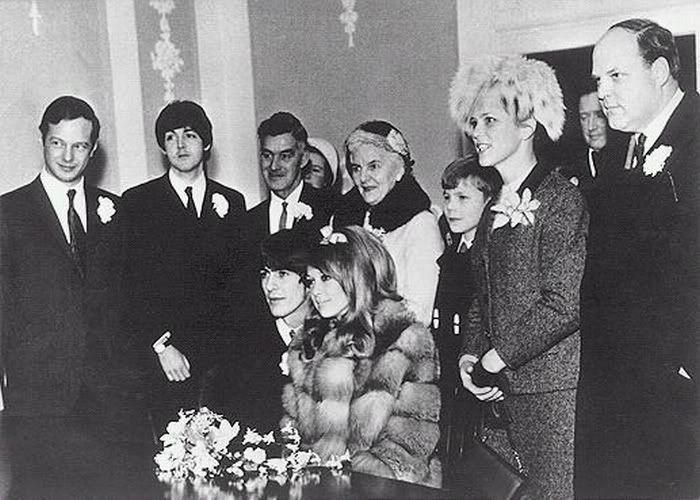 One of the best holidays George and I had was spent with Brian at his favourite place in the South of France, the Hotel Cap Estrelle near Eze. Brian took us to fantastic restaurants and to the casino in Monte Carlo, which was terribly glamorous.

Everyone dressed up – the women in cocktail dresses and the men in dinner jackets – and a huge amount of money changed hands. Brian looked very debonair and was also a successful gambler. He made everything possible for us; everything glorious.

When The Beatles went to Bangor to meet the Maharishi Mahesh Yogi in August 1967, it was the first time they had gone anywhere without Brian being in charge. Brian had seemed interested in what Maharishi had to offer, but it was a Bank Holiday weekend and he was committed to spending it with friends. We were like children allowed into the park without their nanny. John said it was 'like going somewhere without your trousers on'.

It was while we were in Bangor that we received a telephone call telling us Brian, who was just 32, had died from a sleeping-pill overdose. It was the most dreadful moment. Paul and George were in shock: Brian was their friend, their enabler, their hero. He was irreplaceable.

We knew at that moment that life would never be the same again. After Brian's death The Beatles were like orphans, and that was when underlying tensions and resentments began to surface.


---

Eppylover note:
After reading the first comment after the article, I felt compelled to write my own comment and emailed it in. As of right now, it has not shown up, but The Mail does have a disclaimer stating that they approve comments before posting them, and it's up to them whether to omit or even heavily edit them. I so dearly hope they don't edit mine if it's accepted.

Here's how it read:
Pattie is 100 percent correct about Brian.
I like to analogize the phenomenon like this:
Brian Epstein was the hub of the "Beatles wagon wheel." He was the counselor, the guru, the father and the mother. He held them together.

George Martin was the outside rim of the wheel ~ he translated the Beatles music for us, pulled it together and made it acceptable for the outside world.

The Swinging 60's were born when Eppy brought us The Beatles. The Swinging 60's were effectively OVER when he died.

John has said that he loved Yoko because she was like a guy in drag, that their minds were compatible ~ just as it was with Brian and himself. I'm not saying that he and Brian were ever physically intimate, but nevertheless, I've always believed that Yoko was John's "Brian-replacement" in many ways.

Except for the fact that when the Boys quarrelled amongst themselves, Brian would move heaven and earth to patch things up. Yoko had the opposite effect.
---


Read more...
• Pattie Boyd: George had to ask Brian Epstein for permission to marry me
• Pattie Boyd: The dentist who spiked my coffee with LSD
• Glen Owen - The astonishing truth about Eric, George and me by Pattie Boyd