I was busy today.

My niece Sarah celebrated her graduation ~
a Bachelor of Social Services Degree
from Grand Valley State University ~
with a massive party.

MAZEL TOV SARAH!
(No, she's not Jewish, but it's a nice thought, hahaa)

~*~*~
So, for the weekend's religionfest, I thought the following vid was MOST fascinating.
Hope you enjoy it, too.

CLICK: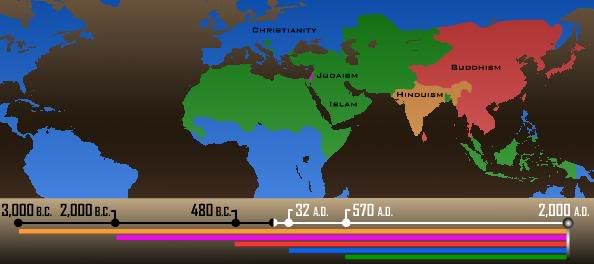 http://www.youtube.com/watch?v=urlBKsH2vuk

Set to an appropriate tune, this is the
GEOGRAPHICAL revolution of the world's
MOST WELL-KNOWN RELIGIONS:
Hinduism, Judaism, Buddhism, Christianity, Islam ~
with selected periods of inter-religious bloodshed also highlighted..

The original website is http://www.mapsofwar.com/ind/history-of-religion.html

~*~*~
Okay, I'm sorry I missed the Shabbos post, but you know how it is when you're such a shmendrick of a shiksa.

---