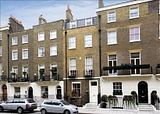 Whoa.
Someone actually bought 33 Chapel Street, directly across the street from Brian's last home, 24 Chapel Street.

Do you realize that £2,950,000 in American dollars is approximately $5,826,000?
That's in millions. Must be nice.

With that kind of money, your eppylover dreams of helping Stephy with her education and career, booking off to Liverpool/London and doing everything there I've always wanted to do, and then put any leftover money into funding serious research into time travel.

I don't have to bother with the funding for research into age regression ~ I believe Yoko has that one well in hand.


---