1967, May 28 ~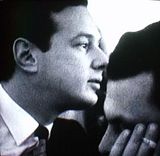 This was the day that Brian Epstein threw a very important (to him) party at his country home at Kingsley Hill.

CLICK HERE for a pic of Brian standing in front of Kingsley Hill.

He had invited many influential guests, and it was crucial to him that all four of his Boys be there.

Not the least of the beautiful people enjoying Brian's hospitality included Lionel Bart, John Pritchard, Kenny Everett, Nat Weiss, Mick Jagger, Marianne Faithfull, Robert Stigwood, Derek
Taylor and his wife Joan. The list went on and on.


John, George, Ringo and their wives were there, of course ~ however, Paul never showed up ~ and, like my mother would do when only 5 of her 6 children came home for a holiday, poor Eppy grieved the very conspicuous absence of Macca. He had been counting on all of them, and now his evening was ruined.

I have no idea what was going through Paul's head when he snubbed his friend and manager ~ but they were going through a few petty squabbles, which Paul did tend to take to heart.

~*~*~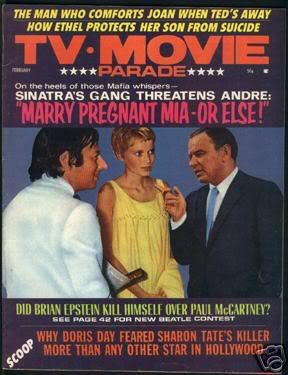 Now, dig this old magazine cover
from February 1970 ~

Read what's printed right under
the picture of André Previn,
Mia Farrow and Frank Sinatra ~

And tell me it didn't make you
put on your LOL-erskates!



---
IN OTHER NEWS:
Charles Nelson Reilly is dead


Another neat little part of my life is gone.

ladyeffingbroke made a very impressive post
on our dear lamented and demented CNR [ HERE ]
---