Thanks to the continually Fabs-informative
WHAT GOES ON Beatles news site


from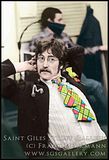 by Jason Gregory
on 14 May, 2007

Never before seen photos of The Beatles are to be unveiled at an exhibition in Norwich, commencing June 1st.

Taken at Abbey Road Studios in 1967, the photos include images of the fab four relaxing during the recording of, 'With A little Help From My Friends,' and eating lunch with producer George Martin.

The photos, taken by Sunday Times photographer Frank Herrmann hours before the band posed for the cover of 'Sgt. Pepper,' were thought to have been lost but thanks to modern technology the candid shots have been restored from the original contact sheets.

The exhibition of Beatles photographs will run until September 1st at the Saint Giles Street Gallery (formerly called 'Frames of Norwich') in Norwich, UK.

Here are the pics being shown online right now

I am assuming that these are the same photos Trini was showing us awhile back; i.e., the negative strips that Paul was peeking through in a couple of the images she shared with us. I can't locate them right now, but if anyone is curious I'll ask Trini again.

Meanwhile, I've noticed a few brand new (to me) galleries.
That girl always has several images I've never seen before!
A must to check out (click Trini).


---



Other stuffs ~ from the seanonolennon website:
FOR SEAN FANS
Julian Lennon took some photos while on tour with Sean

!!! http://seanonolennon.com/photos/tour/julian/gallery.htm !!!

Reference credit AbbeyRoad.net Quick News Links.


~*~*~


Also from AbbeyRoad.net Quick News Links
One of the trashiest Beatle documentaries ever,
"The Beatles Biggest Secrets"
is coming to U.S. DVD in July.


---
Your faithful eppylover fails to understand why anyone
would lower themselves to acquiring such a piece of shit,
but if you're interested, Amazon.com has it on pre-order.


---