(a 1973 photo)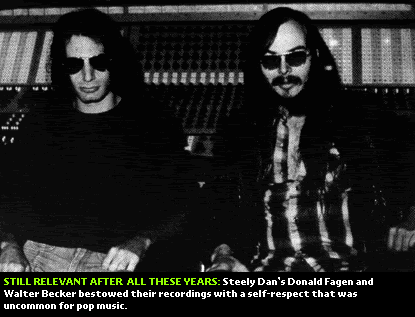 Steely Dan
Jewish rock star dirty joke coincidence number two: while the Lovin' Spoonful and 10CC are Jewish bands whose winking names need no explanation, few know that both indie rockers Clem Snide and soft-rock intellectuals Steely Dan are Jewish bands named after two of the cruder characters in William S. Burroughs' Naked Lunch.

Clem Snide might have taken their name from a certain talking orifice, but Yiddish-fluent non-Jew Walter Becker and authentic Hebraic rocker Donald Fagen went with the moniker of a giant dildo. It's the edgiest thing they've ever done, but the Dan has an enormous cult following.

Can't Buy a Thrill came out in 1972 and contained "Do It Again" and "Reeling in the Years," which both went to the top ten. Their next hit single came in 1974, when "Rikki Don't Lose that Number" from their third album also entered the top ten. Katy Lied, The Royal Scam, Aja, and Gaucho all did well during the end of the seventies, but then Steely Dan went into hibernation, emerging in 2000 with the acclaimed Two Against Nature. More than thirty years after the band first broke, thousands of fans still come out to see the duo play their jazzy, sophisticated pop live.
FROM The Jews Who Rock wiki on the Jewcy site

From a 1976 Rolling Stone piece:


Jay (and the Americans) Black, for whom Becker and Fagen once played backup, used to refer to them as Manson and Starkweather. Together, like a couple of characters from a Charles Addams cartoon, they emit a faintly sinister glow as they illuminate the contours of Steely Dan's gothic, demon-riddled world.

"We're writing," say Becker, "about people who are more or less at the end of their proverbial tethers. There's nothing more boring than affluence and a stable, effortless existence. There's not much to say about that anyway. That's Paul Simon. We'd be walking into his dangling conversation."

..."We don't mix well," Becker says. "I would go so far as to say it's a direct on-to-one hostile attitude toward fellow members of the race."

"Mark Twain used to say 'the damned human race' whenever he talked about people," Fagen offers, "and I think that more or less elucidates our feelings about it. It's more a philosophical than a personal dislike . . . I don't need the world situation for that kind of angst. I read about what was happening in the 12th century and it was a lot grislier than what's happening now. When they set up the guillotine in Columbus Circle, then I'll start to worry."

"It seems pretty normal to us," says Becker. "Art is often concerned with the darker aspects."

"I don't think we're miserable," concludes Fagen. "I'm going to Monaco to see the Napoleonic Museum. What do I have to be miserable about?"

The Dan does Peg live



Y'all should like this ~

---
Y Y Y Y Y Y Y Y Y Y Y Y
---

And as long as we're talking musical Jews:
FROM THE OLD SMOTHERS BROTHERS SHOW
AIRED ON MAY 14, 1967
♥Paul Simon as I love him the best ~
~ with Art Garfunkel ~
~ and Tom & Dick Smothers, two of my all-time heroes!

I LOOVE the end where they all "ba-ba" together.

---

Finally, an aside to

ladyeffingbroke ~~
~~ Yeah, you're welcome, luv!