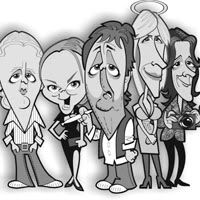 I'm sure everybody's seen this by now.
Not that The Sunday Mirror is the most trustworthy piece of crap in the world ~
but then again, neither is the Heather Mills, so hey, we're even.

Always remember ~~ nobody is beyond comic satirizing.
Not even *gasp!* Eppy:

EPPYLOVER SEZ ~~
In October of 1977
The Harvard Lampoon
did a scathing job on Brian Epstein
(and his boys) that left me shaking.
I own the issue, but I'm very loath to scan it.

I must confess, as undignified and irreverent as it was,
it was very, very funny.
I screamed with laughter.
I'm sorry, Eppykins. *snork* *cringe* *blush*

In contrast to that, if this Heathertoon rumor is true, it could never be clever enough to pass muster as a pop satire. It will only be scoffed at as an infantile wank.

Plus, there will be plenty of room for lawsuits ~~ trust me. Read up on the Disney Mickey Mouse battles, if you doubt me.
---


18 February 2007
MILLS & TOON
Heather's animation show to humiliate Sir Paul's family
Exclusive by Michael Duffy
HEATHER Mills is secretly planning a cartoon series to humiliate estranged husband Macca and his family - called The McFartneys .

The bizarre animation show will portray Sir Paul as a crude Homer Simpson-like slob who spends all day smoking pot and breaking wind.

His children Stella, James and Mary are also ridiculed - while Heather paints herself as a supermum juggling her business and family life.

In one episode she also plans to feature Sir Paul's late wife Linda - who died from breast cancer in 1998 - as a ghost. Heather believes she will be able to get away with outrageous storylines as long as the McCartneys' names are changed slightly.

"This shows the lengths Heather Mills will go to in her attempts to blacken Paul's name," a source told the Sunday Mirror last night.

"She wants it to be a cross between The Simpsons and South Park and reckons it will get cult status. She'll clearly be sadly mistaken.

"She's saying the series will expose everything that has gone on and goes on in the McCartney family, all under the guise of the cartoon characters. But most of it has been dreamed up and cast from her skewed imagination."

It is the latest unbelievable twist in Sir Paul and Heather's explosive divorce battle over his £800million fortune.

Even the name of the company Heather has set up to produce the series, Raspberry Fields, is a petty swipe at Macca - mocking The Beatles' 1967 hit Strawberry Fields. It was set up on July 3 last year - two months after Heather and Macca split. Heather is listed as the company director and her sister, Fiona Mills, 36, is secretary.

The same company that owns Heather's personal website registered the domain names mcfartneys.co.uk, mcfartneys.com and several variations on June 28.

Heather has been speaking to several TV companies in the US and has been looking at the show reels of a number of animators. She has been desperately trying to keep the idea secret while she hunts for the right person to bring the characters to life. The source added: "She has spoken to Sex and The City creator Darren Star and Hollywood director Dennis Erdman about which networks to approach and who may be interested in the series.

"Her back-up, if no one will take it, is to produce it for the internet, because she knows that even if the networks are too afraid to go up against Paul, people will tune in to it. She's looking at the work of different animators. The companies she's been looking at don't know it's for her at the moment, or what the project is.

"The trouble she's already finding is that people are reluctant to be in a show which sends up a legend like Paul McCartney."

The source added: "The McFartneys will all get names similar to the McCartneys. So Heather will be given another flower name. This way the viewer will be able to work out who is meant to be who."

The cartoon will infuriate Sir Paul. The source said: "If there's one thing that will upset Paul, it's having Linda and his family brought into their divorce battle. He's very close to all his children and won't like this one bit.

"Most people are already saying they don't want to be associated with the project - but with Heather's money after the settlement it will definitely be made."

The couple announced their divorce in May last year after Sir Paul changed the locks at their home. In a joint statement, they claimed constant media attention had damaged their relationship, but Sir Paul later blamed Heather for the split, describing her as "rude and argumentative".

She responded by describing him as controlling and manipulative, claiming he was violent towards her.

During their separation it was claimed she had once worked as a £5,000-a-night escort, which she vehemently denies, and posed for pictures in smutty sex books.

She is believed to want £32million from the divorce, which has still not been settled. The Sunday Mirror revealed how she had demanded four of McCartney's homes. Since then she has called in police after receiving death threats.

We revealed last month how she is setting up her own beauty website, called I Do Care.

And Heather has been recording a video diary of her experiences and plans to release it as a documentary.

The source added: "It seems like Heather's whole life is geared towards getting revenge on Paul and getting as much money out of him as she can."


JAMES McCARTNEY

THE 29-year-old musician is very close to his dad and is very protective of him - but has not become publicly involved in any spats with Heather. He played drums on one of Macca's albums and has been seen with him on tour. However, Heather will depict him as the son who hates his father and can't stand the sight of him so avoids him at all costs.


STELLA McCARTNEY

THE 35-year-old fashion designer is renowned for her constant fights with Heather. So it's no surprise her character is portrayed as a spoiled brat, who runs to daddy every time someone upsets her. She's jealous of her dad's new wife and tries to undermine her - and always complains about her step-mum eating into her inheritance.


SIR PAUL McCARTNEY

HEATHER wants to destroy Macca's reputation as a peace-loving pop legend. His character will be seen smoking cannabis, picking his nose and farting all the time. He will also be depicted as a total miser - and be jealous and possessive. He'll not allow his wife out of his sight, demanding her full attention at all times.


HEATHER MILLS

HER own character is also a million miles from the real thing - but in a very different way. She will be a put-upon, sweet little homemaker who desperately tries to fix the family's problems while juggling a career. Her own daughter, based on three-year-old Beatrice, will be blissful and intelligent - thanks to having such a level-headed mother.


MARY McCARTNEY

PHOTOGRAPHER Mary, 37, only agreed to take the pics for anti-fur charity Peta's latest campaign after she was assured Heather was no longer involved with the organisation. Her character will be seen as someone who pretends she's afraid of her own shadow but in fact is out to destroy her stepmother and is seen plotting behind her back.


---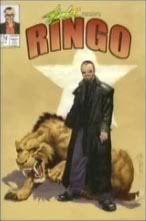 So... how does one battle a vile cartoon? With another cartoon, of course!
eppylover sez ~~
THIS IS A JOB FOR:
SUPER STARKEY!!!