One of my model couples ~ Yay for them!
---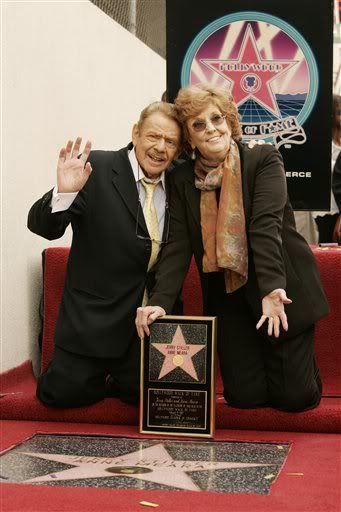 Legendary comedic duo Jerry Stiller and Anne Meara were honored with a joint star on the Hollywood Walk of Fame on Friday.

Together, the couple was known as comedy duo Stiller and Meara and they became regulars on the Ed Sullivan Show where they set an endearing routine of light hearted, self-pointed humor. They also joined the improvisational team The Compass Players which later became The Second City.

Jerry Stiller's career took off again during his stint as George Costanza's father on the hit comedy series Seinfeld. He currently plays the grumpy grandpa Arthur Spooner on King of Queens.

Anne Meara was a regular on the 1980s sit-com Archie Bunker's Place, a spin off of the 1970s All in the Family. She was then cast as the grandmother in the TV series ALF. Recently she has appeared on HBO's Sex and the City as the beer drinking, church going mother of Steve. She also appears on The King of Queens and had a role on Law and Order SVU. Anne Meara is currently working on a Comedy Central pilot of her own.

The couple met when both were struggling actors in New York. Embellishment is a Stiller trademark but his account of their first date ended with Meara paying the tab. Unphased she then went on to become his wife in 1954 and the couple has been married for over fifty years.

The veteran comedians have two children, both actors. Ben Stiller has carved out a niche in Hollywood as an actor, producer and director with his quirky, offbeat comedies including the recent box office success Night at the Museum. The younger Stiller's other hits include Something about Mary, Zoolander, Meet the Parents and Meet the Fockers.

His sister Amy has also enjoyed a career in front of the camera. Amy Stiller landed her first movie role in 1970 in Cy Howard's Lovers and Other Strangers which was also the debut film of Diane Keaton. Some of her other film credits include The Independent, Zoolander and 1994's Realtity Bites.

Jerry Stiller and Anne Meara celebrated their star with both of their children, as well as other family members and past and present castmates from their long comedic careers. The 79-year-old Stiller joked "I invited all my doctors, and four dentists."

They are only the fourth married couple to share a star. Previous duo honorees include Sonny and Cher, television personalities Ozzie and Harriet Nelson and radio stars Fibber McGee and Molly.

Source:

"Hollywood star for Stiller couple" BBC News, February 10, 2007
http://news.bbc.co.uk/2/hi/entertainment/6350287.stm

Wikipedia http://en.wikipedia.org/wiki/Anne_Meara, /Jerry_Stiller, /Ben_Stiller, /Amy_Stiller

© 2007 Associated Content, Inc.