I'm almost certain that Brian Epstein would be appalled at being referred to as a "gay great," "gay icon" or any such label that singled him out for his homosexuality. See [ this post ].

Be that as it may, the following article, an excerpt of which I provide under the cut, is a very nice tribute and does do him quite a service. I only wish this sort of thing were also featured often in mainstream media, instead of only magazines targeting certain groups (for example, the Moment Magazine article on Brian).


---
from

"Gay Greats" Dept.
...In the aftermath of his death, Epstein's work was criticised. His image became that of an inexperienced, dodgy-dealing, second-hand car salesman. His memory was very much tarnished, passed-over or forgotten altogether.

In recent times, the public have started to look more kindly on his influence upon British life in the sixties. Some have acknowledged that Epstein didn't take bad deals by choice; he took the only deals available to a band that nobody in the industry had heard of.

The fledgling deals done, he then guided that band to become the biggest pop music group the world has ever seen. In the wake of Brian Epstein, managers across the world learned to push their band to fame, whatever it took, and to ultimately sacrifice their own career, reputations and lives to the talent of those they represented.

Brian Epstein will long be considered as the father of modern music ~ that the sixties would rather forget.
The entire article is quite wonderful.

---

.Taking a new direction in my Eppy-searching, this time through a thing called 'podOmatic' ...

Someone had the semi-amusing idea of using the audio of the three Brian Epstein Hullabaloo show interviews with Dick Lester, Andrew Loog Oldham, and Marianne Faithfull ~ and putting them on like a Johnny Carson sub ep.

The pod people think they're being funny when Brian introduces Marianne singing "When Tears Go By," and then they play a clip of another artiste (?the Stones?) performing it instead. As if we'd think...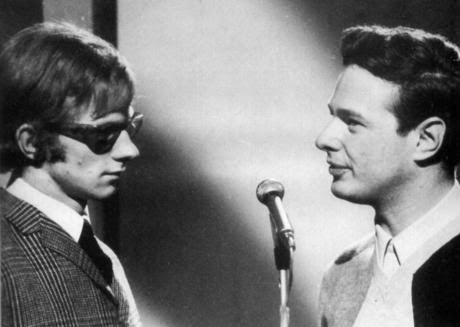 Heeere's Eppy!
"Brian Epstein substitutes for Johnny Carson on the Tonight Show, February 29th 1965." (fictitious!)

As always, it's nice (more than nice) to hear my Brian's voice ... ♥
... unfortunately, the podmaster felt it necessary to "fill in" with various ENTIRE music clips (mostly Beatles, of course).

I am intensely irritated by interview things where music clips waste time in-between the talk! If I wanted to hear Beatles music, I would play a record, y'know?


---


Click this! and, if you see empty space, scroll down for more Beatles & Eppy!

Just to show you, here is but ONE of the results:
http://beatles.podOmatic.com/entry/2007-01-03T16_49_26-08_00

Narrating, you will recognize mainly Larry Kane (Ticket To Ride and Lennon Revealed), and Tony Barrow (John, Paul, George, Ringo and Me) ~ not to be confused with the wonderful Tony Bramwell (Magical Mystery Tours:My Life With The Beatles).

When you watch this one, please be sure to remember that the narration and story in the "Beatles: 1962-1970" podcast is quite unfair, because it's told with the Monday Morning Quarterbacking approach. Blaming "The Beatles' Management" (i.e., Brian) for their "failures" in the organization of the tours.

Man, when will they realize that the Beatles tours were THE FIRSTS ~ that this kind of commotion had never been experienced before, and nobody, not even Brian, had anything prior to go by! Those three years were setting the precedent for all future rock tours, damn it!

So much of this organizing and follow-through were done on-the-fly, on things like envelope backs and scrap papers enroute; it was so trial-and-error. This had never happened before. Airlines and hotels, etc. didn't realize the importance of what was going on.

Considering the above, it's the eppylover's considered opinion that anyone else in his place would have done much, much worse than Brian Epstein. He was brilliant. A visionary. ♥

Quite an interesting Tony Barrow quote from the "Beatles: 1962-1970" podcast:

"Only Paul had this extraordinary showmanship about him.
He actually said to Brian Epstein in the very early stages ~
'If, for any reason, The Beatles don't take off, I am going to continue in this career...
...and you are going to represent me.'"