Yeah, the christine is being eppy-angsty-petty again, deal with it.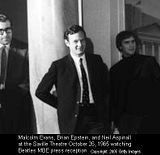 But DARN it still hurts like mad to see Brian left out of Beatles tributes, especially official and historical ones.

We all know how injured he was (he put up a good front, though!) when he was shoved aside and denied an MBE. I feel a sharp twinge whenever he's forgotten; even worse when he's dissed.

Eppy was indeed one of them (as each Beatle had at different times expressed), but his "differentness" ~ i.e., class, religious culture and upbringing, sexual orientation, age, etc. ~ unfortunately put him on another level in everyone's eyes.

Nevertheless, Brian Epstein is the one who made it happen, the one who stood by them through their miraculous trip to the toppermost of the poppermost ~ and when he died the Beatles, and Swingin' Sixties London, effectively deteriorated. The boys could not exist as a cohesive group without him.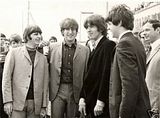 That is why I feel that it is only fair and honest that Brian be looked upon as equal to his boys in all ways except for the actual music itself.

Because, as a true Beatles person knows, they were much, much more than just their music. In comparison to everything else they were, the music was a relatively small part! Brian's Boys were a phenomenon, a mind-blowing, world-culture-changing miracle.

Okay. Rant over.
Now for what set it off ~ which is lovely even excluding Brian ~ but would have been lovelier and more fitting with him on them, too.

---

The official first-day commemorative cover
of the new 2007 Royal Mail Beatles stamps
The Beatles Story offers its Friends (those who are signed with them on their website and for email updates) something special.




Beatles Story Mini Mail - Beatles Stamps
Dear Beatles Fan,

Friends of the Beatles Story (you!) have the chance to purchase an
official first-day commemorative cover of the new Royal Mail Beatles
stamps.

There are a limited number of official Apple stamp covers, each
containing a full set of the new Beatles stamps.

The commemorative cover and stamps cost 9.95GBP plus post and packaging.
They are available to purchase from Tuesday 9th January 2007, by clicking
[ here ].

---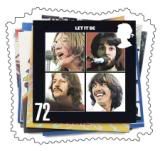 Here is the Reuters News article
fully describing the stamps,
with nice clickable photos!




---


Today's Stephy Comic ~