This looks like it will be insanely wonderful!
---
EDIT: Near bottom of post, a few links to where this can be bought at cheapest prices.
---

[ Here's a link to the original page this is copied from ]
Spinetti: 'I'll always remember my roots'
Dec 2 2006
Hannah Jones, Western Mail
Talking to Victor Spinetti is like being invited to the best party, one where the guest of honour takes you to one side, sits you down and promises to tell you a little story.

Only his stories aren't little and the names he drops into idle conversation are, frankly, big enough to bounce.

Here's his starter for 10 - Princess Margaret.


In his new memoir, the Welsh actor claims that the princess had a life full of secrets.

Not only does he gush about her beauty, he says the princess engaged in extra-marital behaviour and enjoyed one-night stands in London hotels.

Although he confessed to me that the "one great love" of his life was his partner Graham Curnow - "we shared a life but we didn't go in for possessiveness or any of that other nonsense and the sleeping together thing didn't really work" - he writes in his autobiography how he was "taken up for a while" by her, after she saw him in a play in 1969, when she was still married to Lord Snowdon.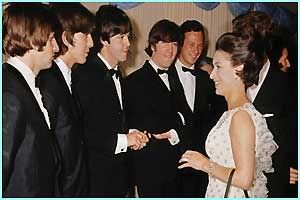 He describes a dinner date with the princess at a London hotel, where she told him of her secret flings.

He writes, "She loosened her fur coat, letting it drop to the floor, sure that someone would pick it up. After the meal she said she would ask the manager to let her look through the rooms.

"When asked if she had much experience of hotel rooms, she replied, 'Only for one-night stands'."


The book also tells how Margaret enraged Hollywood legend Elizabeth Taylor by ignoring her at a post-premiere party and flirting with her husband, Richard Burton.


Spinetti recalls, "She started monopolising Richard. The only time she included Elizabeth was when she looked over at a ring she was wearing and said, 'What a huge diamond! How vulgar, but I'd love to wear it'.


The tales in the book, utterly non-confidential unlike its title, read like a good old-fashioned romp.

It's camp, just like its author, mischievous, and sexual, charting Victor's exploits - with both men (his preference) and women (his weakness) - in and out of the bedroom.

He had close encounters with Marlene Dietrich, worked and verbally sparred with Laurence Olivier, went drinking with Tennessee Williams and shared digs with a young and inexperienced Sean Connery.

He also starred in all of The Beatles films and turned down Hollywood.

All that while remaining an Welsh man at heart, a Welsh-Italian schoolboy from Ebbw Vale with big dreams and the talent to bolster his grand plans.

Despite his achievements - or possibly because of them - Spinetti remains "a Cwm boy who's still coming home for Christmas to spend it with Mam and the brood," a 60-something star who has never forgotten his roots or his passion.

"I can't stand it when people get so ... how do you put it ... lah-di-dah," says Spinetti.

"Do you know what I mean? When they get too big for their boots, forget where they're from and can't be bothered to speak to someone. I mean, bloody hell, I'm from Cwm!" he booms.

"I've done it all but I can tell you something for nothing - the bigger the star the more natural they are.

"These aren't the ones who have to be entertained or go to all those fancy dinner parties all the time.

"The Beatles were the most natural, nice boys in the world.

"And whenever I saw Richard Burton he always said to me (at which point Spinetti breaks into one of his many impersonations, this time a deep replica of Burton's timbre) 'Are you sure you're all right for money now, Vic?'

"See, real people, real stars don't forget who they are.

Although Spinetti became known to the '60s generation through his stand-out roles in three Beatles films, his career has taken many dramatic twists.

He is a veteran in the broad sense of the term, having performed with the Royal Shakespeare Company, starred alongside Burton and Elizabeth Taylor in Dylan Thomas's Under Milk Wood, Prince in Under The Cherry Moon - "I did bugger all in that one, didn't say a word, just flounced around in the film as the supposed 'spirit of Nice'" - and is currently touring the UK in the play Ghost Train.

In professional terms he's been there, done it all, bought the T-shirt and still had Paul McCartney round for tea.

For a man whose life has been spent in the spotlight, as famed for his associations as he has been for his accomplishments, he's remarkably unguarded about his past.

He once said to me "I bet in your line of work you get to talk to all sorts who can't be bothered to tell you some of the things they've lived through.

"Perhaps it's because they don't want to or maybe it's because they don't want to share it. Or worse, can't be bothered.

"But I've had a wonderful past and I'll always have the memories.

"How can you fully appreciate them if you don't share them?

"People ask me all the time about working with The Beatles and stories like that and of course I'll tell them.

"You don't get to keep anything of value until you give it away.

"Just like love. Just like joy. It's easy to keep misery.

And so he launches into stories about the Beatles, how he still sees Paul, about the day he met his soon-to-be ex-wife Heather.

"I never trusted her," is his reaction to tabloid tales of their split and her allegations that Sir Paul was less than chivalrous.

"I certainly don't know the Paul she's talking about. I've never seen that man get worked up and I've watched him before a concert where he was going to sing for thousands of people. He's a gentleman.

"When I met her she didn't have a lot to say for herself but what can you say? You can't turn around and tell your friend you don't think the woman he loves is the one for him. She wasn't gracious. Paul is.

"Yoke (Yoko Ono, John Lennon's wife) never had a lot to say for herself either; she'd just sit there behind these big glasses not saying a word. Funnily enough, she has a lot to say for herself now. Just like that Heather girl.

He also recalls the time both he and Paul cried over the death of Linda McCartney, how he was much closer to John Lennon "back in the day" and when George Harrison plumped out his pillows when Spinetti was down with the flu.

Spinetti was discovered by the Beatles in 1963 when Lennon and Harrison saw him in Oh! What A Lovely War, for which he later won a Tony Award when the show hit Broadway.

It was when the pair visited him in his dressing room after the show that they seconded him to appear in their first movie.

BELOW: VICTOR WITH JOHN
LENNON'S SISTER, JULIA BAIRD


"I fell in love with them," says Spinetti. "We became fast friends but it was John who was the most dear to me out of all of them. We just had such wonderful talks, talking into the night about this and that.

"I even directed a play of John's book In His Own Write, which Olivier wanted to star in.

"I told him that the part of John's father, who could never tell his boy that he loved him, was that of an emotional cripple.

"So Larry told me he'd play him in a wheelchair which was bloody nonsense, of course, as the man had no trouble walking.

"So I told him that an emotional cripple wasn't the same as someone who was physically disabled and he couldn't believe I turned him down.

"And he said (adopting Olivieresque boom), 'What, you're saying no to me when every director in the world wants to work with Olivier?'

"But he didn't have a bloody clue what John and me were getting at. So I told him if he wanted a part he'd have to put some slap on and play John at 17, which he turned down. But he was a love and enjoyed telling everyone the story of when I turned him down.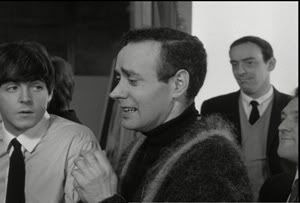 "Anyway, where was I? Oh yes, the Beatles.

After curtain down on Oh! What A Lovely War, Harrison and Lennon went backstage to persuade the actor to be in A Hard Day's Night.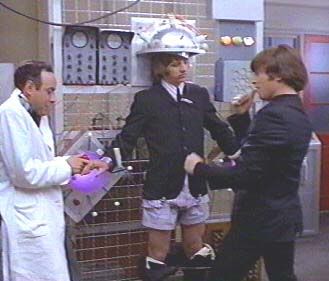 "George said to me, 'Oh Vic, you've got to be in our film because if you're not in our film my mother won't come because she fancies you'. So I was cast in A Hard Day's Night, then later Help! and Magical Mystery Tour.

So rich was his association with the Fab Four that when his home was burgled in the '70s the thief took everything - save for four pens he'd had inscribed with the names John, Paul, George and Ringo.

"It was worth losing everything just for the laugh I got out of it," Spinetti muses

"This chap took it all and left the pens I'd put in the house ready to give the boys as presents as they were always borrowing my fountain pen to write autographs.

"And you know what? He left a note by the side of them saying that he didn't take them because he was a fan too.

Like his muse, the late, great director Joan Littlewood, Spinetti has devoted his prodigious life on stage and on film to a faith he has kept since his days acting in the amateur Ebbw Vale Playgoers Society.

He believes in the genius of his craft, the richness of his opportunities and the notion of celebrity neither impresses nor consoles him.

"Years ago I was offered $1m to go to Hollywood and I turned it down because I wouldn't have been allowed to take Oh! What A Lovely War to New York.

"Celebrity has never worried me because if it does you'll always have to be concerned about staying thin, worry about getting fat, worry about your face, if you have the biggest car on the street, who you know and who you don't.

"Look at poor Anthony Hopkins.

"He's fought for years with alcoholism and for all the money and fame he's got he can't pick up a drink. And here I am sipping champagne and not knowing what I'm going to do the moment I stop talking to you. That's enough for me, you see.

"I don't worry and I don't fret about anything. As far as I'm concerned that's just making a pact with the devil. And that's never any laughing matter."

Living a nomadic life also has its drawbacks, with Spinetti sharing how he was slowly poisoning himself - with junk food. Blaming it on his hectic lifestyle he said, "I was living on convenience food - simply because it was too convenient," he said

"I was so busy I was buying all that processed package food for the microwave.

"After all, it was so convenient, coming in from the theatre."

The actor - who says, "I was born over the fish shop" - quickly realised all was not well when he started to feel lethargic

"I was feeling so tired all the time, I could hardly get out of bed," he said

Thirty minutes of daily aerobics before curtain-up proved to be a strain, too, but with the show pulling in record audiences he knew this wasn't the time to be ill.

So, in desperation, he called in to see his GP and asked him what was happening.

"My doctor told me my blood was full of sugar and salt and that I was poisoning myself," he said

"It all added up to the fact that I was a walking Tate and Lyle advertisement.

"I wasn't eating tonnes but I had put on a tremendous amount of weight.

"I was even in danger of developing diabetes and I have checked it all out.

"My doctor said, 'You have got to the threshold of diabetes and first of all you had better give up drinking'. I was astonished because I am not a drinker, just a glass of wine a day.

"Then he said, 'What has changed?' That's when I told him I was eating all this convenience food.

"He made it clear: I was poisoning myself, and he was right, of course.

"Now I eat only healthy foods - I have proper meals with plenty of vegetables. And I feel so much better for it, too.

"Let this be a warning to everyone: You can't go on like that. Eat fresh fruit and vegetables rather than convenience food.

"I was full of sugar and salt and getting up at five in the afternoon to go to work.

"Now I feel so much better. I have lost more than one stone in weight - and I have got all my old vitality back. It is a new lease of life as far as I am concerned."

There is, you see, nobody to look after him and he no longer feels that anywhere is really "home."


That ended, he says in a moment of seriousness, with the death of his long-term partner Graham.

"He was home to me," he says.

"I lived upstairs (in their home in Brighton) and he lived downstairs.

"We were together for 44 years, but we never showed any emotion when we were in public - it wasn't the done thing and we would have been classed as criminals for loving each other.

"Even when he was ill and I was watching him dying, I wanted to reach out and touch his hand. But I think he would have pulled it away. You had to be careful about expressing this love, the love that 'dare not speak its name.'

"And that is why, today, my heart sings for young men holding hands.

"There was no explosion, no big thing when we met. We simply got on well and were two men who shared a life.

"When Graham and I weren't together, we'd phone each other, always at a certain time - this was before we lived together, you understand.

"He's call me from a phone box in his village, me from the shop or the house in Cwm.

"And neither of us wanted to put the phone down first. It was the real thing. He was my life's companion."

Victor, however, recalls how distressed he was when he realised he had feelings for the same sex.

It was the summer of 1948, after he was released from the army with ill health.

Although he had a "fumble" with a female nurse, he fell in love with a fellow patient in the army sanitarium. It was a man.

It was this realisation that he was gay - or at least bisexual - which put pay to his latent ambition of becoming a priest, a decision which eventually led him to the theatre.

"I came home from the sanitarium and was displaying all the classic signs of lovesickness, but who did I love? "My thoughts spread outwards, but what a shock. It was a man. Impossible! It couldn't be but it was. I had fallen in love, deeply in love with a fellow patient from the sanatorium, a patient who, of course, had no idea of my love for him.

"Him? I can barely say it even now, because it was so unexpected.

"The rumba-ing kid at the Miners' Institute, the tango-ing terror from Ebbw Vale Drill Hall, the one who could pull any of the girls with his virtuoso dancing now had to face this fact. He was in love with a man.

"I was appalled. I was even more of an outsider than I realised.

That outsider, however, became one of the most sought after actors of his generation, one who is still working and looking for his next challenge.

He is, as Sir Paul McCartney said, "The man who makes clouds disappear."

Victor Spinetti is an all-round laugh-a-minute performer who still buzzes with excitement and enjoys sharing titbits from his rainbow coloured life.

"I've done it all, darling girl, but I always remember where I come from," he concludes.

"When I won the Tony Award and brought it down to Wales, the local press took photographs of me holding it.

"In the South Wales Echo the next day it said, 'Victor Spinetti arrived last night with New York's coveted Tubby Award.'

"In the street a woman called out, 'What's that Tubby Award, love? You're not that fat'.

'No, no, it's not a Tubby, it's a Tony', I said.

"'Toni?' she said, thinking of the popular home perm of the time, 'Are you into hairdressing now?'"


Victor Spinetti Up Front: His Strictly Confidential Autobiography
is published by Robson Books

On eBay:
First Edition Signed, starting at GBP 13.99 (approx. $27.62) - ends Dec 16

First Edition Signed, starting at GBP 13.99 (approx. $27.62) - ends Dec 9

On book search engines:
cheapest book price.com
Campusi.com
allbookstores.com
BookFinder4U.com

---

Left to right: Victor Spinetti, Chris Carter of KLOS's Breakfast With The Beatles, Martin Lewis and John "Shake" Junkin, who sadly died on my birthday this past year.



---
DEC 5 POSTS from the past two years ~~~
~*~*~ 2004 ~*~*~

Nothing of interest


~*~*~ 2005 ~*~*~

Smiley Eppy-Spam!

---