Going cheap!

[ The Brian Epstein Story ], in hardcover
Um, hello,
neongoddess, or any other bargain hunters who may not have read this book of wonderful recollections of Brian, taken by Debbie Geller directly from his friends and relatives. These interviews were the basis for "The Brian Epstein Story," the 1999 Bafta-award-winning BBC Arena special. There's a lot of material in here that they just couldn't fit in or wasn't appropriate for the special, too.

Well jeez, it's going for under a buck ~ and even though it ships from the UK, it's quite a light book in weight, so it shouldn't cost that much more. If nobody bids against you, that is!

---
[ Brian Epstein's Personal Address Book ]
Seems Dick Clark is auctioning a great deal of his memorabilia (he admits to having been a collector!)

---
BTW...
[ THIS ITEM ] would be sweet to have on my (or your) wall, too, wouldn't it? If it went cheaper than $20, it would be so worth getting.


---

So, have you heard? ~~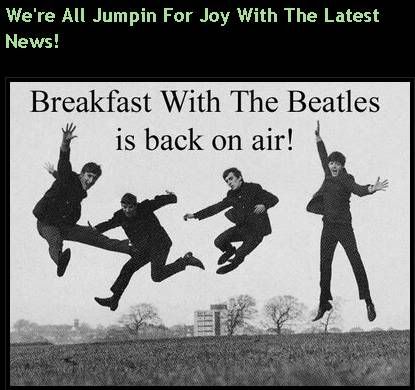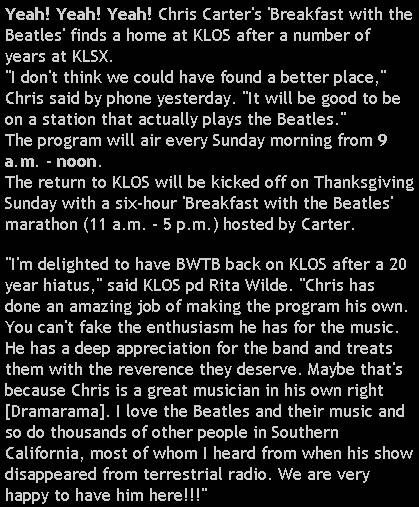 Click to go to their MySpace

This news was also promoted on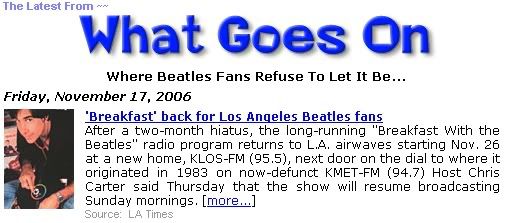 WHAT GOES ON

== ♥

Beatles LOVE Marathon on Radio!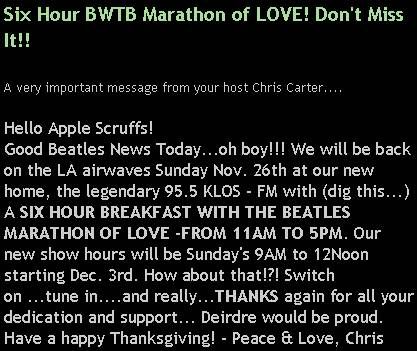 ---
Check out Brian Jones and the Rolling Stones in their 1964 NME concert
[ On YouTube, HERE ]


Call for new autopsy on Brian Jones
Click for page of recent articles on this story

Demands are being made for a new inquest into the death of former Rolling Stones guitarist Brian Jones and for his body to be exhumed.

Jones, a founding member of the legendary rock group, died in 1969 when he drowned while taking a midnight swim at his mansion at Hartfield, near Crowborough.

There have been a number of conspiracy theories about his death and his girlfriend at the time, Anna Wohlin, believes he was murdered - claims repeated in last year's film Stoned.

A verdict of misadventure was recorded but a new investigation has cast doubt on the official account that Jones drowned after taking a cocktail of drink and drugs.

A BBC documentary last night showed how Jones, 27, had drunk the equivalent of only three-and-a-half pints of beer and the drugs found in his system could have been prescribed sleeping pills.

Trevor Hobley, who has spent more than three years probing the death, will present his dossier of evidence to the Attorney General in the hope of getting a fresh inquest.

Mr Hobley, 56, is chairman of the Brian Jones fan club, and has hired a team of forensic experts and a lawyer to help his investigation.

He said: "We have come across some really damning new evidence - between the BBC, myself and the lawyer - and we are going to present it to the Attorney General in an attempt to have the death by misadventure verdict replaced by an open verdict.

"This will then allow us to go to the next stage of having a fresh investigation and a new autopsy."

Mr Hobley believes the only way to get to the truth of what happened to Jones is to exhume his body from its grave in Cheltenham, Gloucestershire.

Last night's edition of Inside Out West featured Mr Hobley's investigation and he said the BBC hopes to follow his future progress as he bids to get a new inquiry into the musician's death.

He said people did not appreciate Brian Jones' contribution to the band.
8:23am Tuesday 7th November 2006


---

I dunno if this is online illegally, but ~
Click for text of the entire book:

The John Lennon Encyclopedia by Bill Harry


---


Finally, from Abbeyrd.Quick News Links~ Marianne Faithfull, and Monty Python's Terry Jones, have both been in the news lately due to announcements they were battling cancer. Good news on both fronts is that they've improved.
Here's a Daily Mail story on Faithfull
and a UPI story on Terry Jones.