Teenchristine's Sergeant Pepper book, handmade in 1967...


You're in for either a treat or a mistreatment. (I'll lay my odds on the latter.)

Let me tell you, right up front, that when the other members of our little high school Beatles group read this (or read part of it, grimaced and handed it back), they were not very impressed.

However, my American Literature teacher noticed it on my desk and asked to see it. I reluctantly handed it over. A few days later, she told me I'd get it back soon... because it was making the rounds amongst her compadres in the teacher's lounge. Urrkkk!
(THEY liked it.)

So, don't tell me I didn't warn you...

At the bottom of the page, I have given you a little background on some of the "in-jokes" ~~ [ INDEX ]

Front cover


I apologize for using my computer to patch in the missing characters in the left margin of many pages. This was the best I could do on the scanner. The book is starting to fall apart, and I did not wish to abuse it any further by tearing the duct tape off the "binding" and destroying the rusty staples.

Of course, we had nothing resembling a computer in the 60's.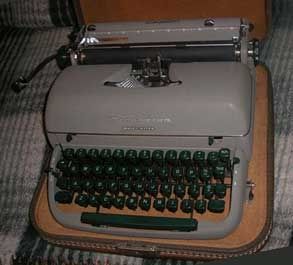 So, if you were lucky enough to have had access to a typewriter, in the event of a typo you either had to throw the entire page away or make a mess. An eraser of any kind would end up making a nice hole in the paper because the typewriter ribbon's ink was quite indelible.

White-out (aka Liquid Paper) was not widely used ~ in fact, I don't think we'd even heard of it yet, even though research tells us that future Monkee Mike Nesmith's mom had invented it in 1951 and started marketing it in 1956.

Editing was done by scribbling with a pencil on your previously-typed page and then retyping the entire thing. Not just the one page, but the entire chapter, if you wanted your top and bottom margins to match.

I'm giving you all links to the various pages, because putting everything in jpg format in one post like this would not be nice to those who may have slower connections.

Tablet of Convents

SGT. POPPER'S LOVELY PHARTS CLUB BAND

A LITTLE HELP FROM MY FRIENDS

A LITTLE HELP FROM MY FRIENDS -page 2

LUCY IN THE SKY WITH DIAMONDS

LUCY IN THE SKY WITH DIAMONDS -page 2

IT'S GETTING BETTER ALL THE TIME

FIXING A HOLE

FIXING A HOLE -page 2

FIXING A HOLE -page 3

SHE'S LEAVING HOME

SHE'S LEAVING HOME -page 2

BEING FOR THE BENEFIT OF MR. KITE

BEING FOR THE BENEFIT OF MR. KITE -page 2

WITHIN YOU, WITHOUT YOU

WHEN I'M 64

WHEN I'M 64 -page 2

LOVELY RITA, METER MAID

LOVELY RITA, METER MAID -page 2

LOVELY RITA, METER MAID -page 3

GOOD MORNING, GOOD MORNING

GOOD MORNING, GOOD MORNING -page 2

SGT. POPPER'S LOVELY PHARTS CLUB BAND (reprise)

A DAY IN THE LIFE

A DAY IN THE LIFE -page 2

THE BITTER END.


A LITTLE EPPYLOVER INDEX EXPLAINING SOME OF THE ESOTERICA AND "IN-JOKES"
Before I slapped together this travesty, I was unaware of what is now a boringly typical method of naming Beatles books and chapters by using their song titles. Sorry.



There are a lot of what seem to be obvious references, which are not so obvious to me anymore, and are unfortunately lost to the ages ~ such as, "Troop C-4 of the British Army Unit D-12" meant something back then. What? I dunno.



Page 1- General James P. Havoc is, of course, James P. (McCartney) and general havoc. And, according to the Beatles Fan Club handouts, Paulie had hazel eyes.


"And the band played hootathunket." (Who'd a-thunk it?) My ma used to say that all the time, having picked up the phrase from her mother-in-law.


Page 2- Smithers ~ One of my other obsessions in those days was The Smothers Brothers.


Mushmouse


Page 5- Lennon was known at that particular point in time for being obsessive about taperecording everything ~ and I mean everything ~ I swear, it wouldn't have surprised me to hear that the man taped his own bowel movements.

Winking blinking box ~ Lennon's "nothing box" ~ see the second paragraph on [ THIS PAGE ]



Page 6- The Great Society ~ What the Lyndon Johnson administration was called.

Senator Bobby's solution to the population explosion ~ he had eleven children


<<== Micky Dolenz's hairdo ~

Not to wander off-topic, but that brings to mind
My old Beatles/Monkees party post
.


Page 7- Wormwood Scrubs ~



Page 9- Well, Zak wanted to know where daddy was, and Paul had already eaten Ringo, so... um, do the math.



Page 12- Crocetti ~ Dean Martin's real name was Dino Paul Crocetti.


"Red Rubber Ball" ~ The first hit record from the only American group signed by Brian Epstein, The Cyrkle.
YouTube video of The Cyrkle in 1966
The group was discovered by Nat Weiss, signed by his best friend Brian, and named by John Lennon. The song was written by Paul Simon.




Page 14- The A and B aspirins ~ from a commercial that was constantly being shown at that time. It was either Anacin or Bayer, don't remember which, and despite my best efforts, I cannot find a reference. I lose.



Page 15- "Old adobe hacienda in the heart of Old Mexico" ~ from a popular song of the day called "Speedy Gonzales." Now considered quite politically incorrect, but back then it was par for the course.



Page 17- Thomas the ballerina ~ Quips are obviously based on the Tommy Smothers image. ♥



Page 19- The Rolls Royce with the scrolls, flowers, etc. ~ if you don't know Lennon's car by now, I pity you, fool. ;P
Here's The Rolls owned by the Psychedelic Daddy





Page 23- Buzzawyer ~ "Buzz Sawyer" was a comic strip in the newspapers at the time.
Teenchristine, author, in 1968 ~
---

Whew. Was making this post worth wasting waste of a good couple of days or what?
(I re-read the above sentence and decided to leave it that way; I like it.)

Well, at least now I'll have a permanent record of my little dumpy book, in case anything happens to it.