The Following News and Links are from ~ >What Goes On

THE BEATLES - LOVE
CIRQUE DU SOLEIL

Soundtrack due out November 21st,
17 cast members to appear on the Tonight Show
on Wednesday, November 15th
Seventeen artists from the cast of LOVE will perform a specially created segment for The Tonight Show with Jay Leno on Wednesday, November 15, 2006 (scroll down to that date).
A special collage of "Lady Madonna", "Drive My Car", and "All You Need Is Love" will tease nationwide television audiences to come to The Mirage to see the full show. One of the specially built VW Beatles will also be making the trip to LA for this appearance.

Capitol Records has sent What Goes On the first two songs from the LOVE CD Sampler, and they gave permission to share them with you- Strawberry Fields Forever and Octopus' Garden. Click on the stream to hear the complete songs-
< strawberry fields forever >
< octopus's garden >

Hear worldwide Beatles exclusive on Virgin Radio ~~ LOVE webcast info
In an exciting world exclusive, the new Beatles album Love will be played uninterrupted, in its entirety, on Virgin Radio in the UK and on the internet, at 11pm (UK time?) on Wednesday, November 15. The new CDs will be in stores on November 21.



== ♥ == ♥ == ♥ == ♥ ==





I've always had a strong feeling that poor Eppy did NOT want to sack Pete...
and now Pete's DVD seems to back me up!

~~ From [ THIS POST ] ~~ Which is copied from [ THIS ARTICLE ] ~~

My side of The Beatles' Story, by Pete Best ~~ "I remember when Brian Epstein contacted me to see him in his office. Billy Kinsley and Tony Crane were outside in Whitechapel - they were due in after me.


"When I was given the order of the boot," says Pete, "The Merseybeats went to Brian's door and in the film they say how Brian came out looking very upset and flustered and he cancelled their meeting."

---
It must have been very difficult for him... but, as we all know, he'd do ANYTHING for his Boys. They were his world.

~Another very interesting thing ~~ it says that Paul McCartney is one of the interviewees on the DVD. Hmm! I've always heard no Beatles ever spoke with Pete (or even much about Pete) since they canned him ~ ?

*"Pete Best Of The Beatles" was released this week through Warner Music Vision, price £12.99.



== # == # == # == # ==


from HindustanTimes.com
Yoko Ono gets rap over Lennon school sale
Asian News International
Washington, November 2, 2006
Avid 'Beatles' fans are furious with John Lennon's widow Yoko Ono for lending her support to the sale of the singer's legendary old art college.


Ono recently appeared at a fundraising bash in New York for Liverpool's John Moores University, which will use proceeds from the sale to fund a new design centre.

A University spokeswoman has confirmed that Ono was fully aware of the transaction, and that Lennon's college is now earmarked for conversion into 28 apartments.

"Yoko was really thrilled and interested in the design academy," Contactmusic quoted her, as saying.

But 'Beatles' fans are hopping mad at Ono for supporting the sale of the historic building - one, where Lennon courted his first wife and fellow student Cynthia Powell. The singer had also met the original 'Beatles' bass player Stuart Sutcliffe at the college.

"It is surprising that Yoko is backing something that would see John's old school turned into flats," Nick Stanley, director of Liverpool art organisation Annexe Inc, said.
[ LINK ]



== ♥ == ♥ == ♥ == ♥ ==


ON YOUTUBE

Brian's "daughter" Cilla sings
"You're My World" ~ 1964
I've always contended that the reason Cilla never made it big in the US was because of what I call "the Dionne Warwick blockade." It's a shame the Warwick people felt the petty need to impede Cilla's progress in America, as their vocal stylings are not really that similar: In his book Black Vinyl White Powder, Simon Napier-Bell pointed out the irony of this. "Cilla Black", he said, had "this huge, brash, wailing sound" while Dionne Warwick "was the most subtle singer in the whole of pop."
~from the Cilla Black entry on Wikipedia.com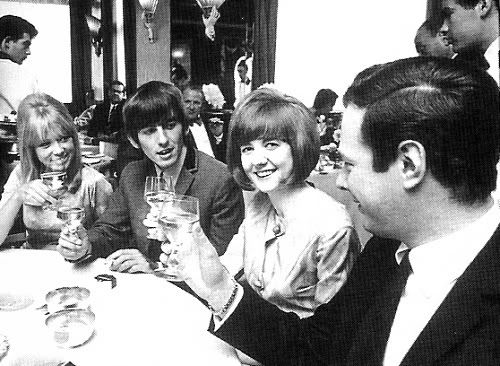 more Cilla info