Watch last night's SNL Macca appearance ~ at the end of the skit ~

Can't help showing my age here, but I started slacking off on watching SNL around 1980, the time of the first cast turnover.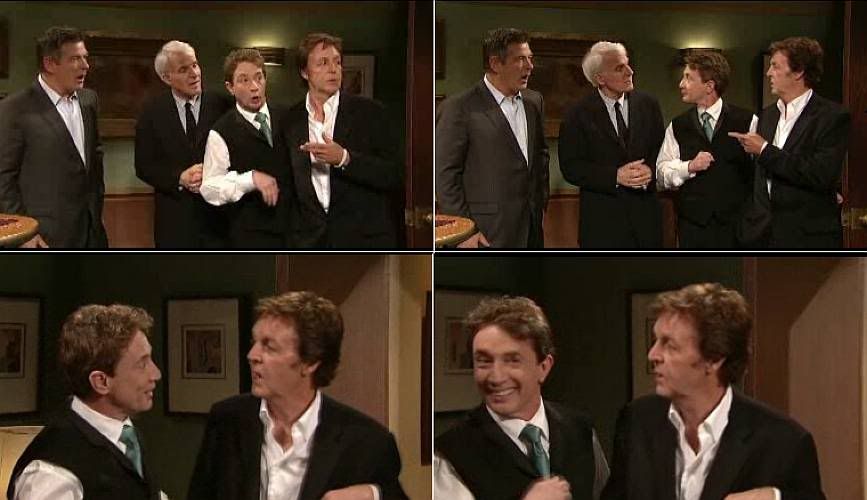 By 1982 (coinciding with my first divorce) I had totally stopped watching it.

(Below) Does it look like they surprised Alec Baldwin just a little bit,
springing Paulie on him like that? Hahaa!


So I really don't know Martin Short as being from SNL ~~ but Steve Martin, hell yeah!

My favorite moment from SNL:
Rocket would eventually doom both his and Doumanian's tenures on the show with one word. The February 21, 1981 episode hosted by Dallas star Charlene Tilton featured a parody of the famed Who Shot J.R.? episode of Dallas. In the sketch, Rocket was shot in the chest by a sniper. At the end of the show when cast members traditionally gather around the host to say good night, Tilton asked Rocket how he felt about being shot. A wheelchair-bound Rocket audibly mumbled that he'd like to know "who the fuck did it", followed by the cast and audience reacting with shock and a small amount of embarrassed laughter.

The incident seemed to encapsulate all that was wrong with Saturday Night Live at the time, and both Rocket and Doumanian were soon fired (along with most of the writers and fellow cast members Gilbert Gottfried and Ann Risley). Piscopo and Murphy were the only cast members to survive the axe, and new producer Dick Ebersol replaced the other remaining cast members, Denny Dillon and Gail Matthius, after only producing one episode.
from Wikipedia

Also, I miss the old Gilbert Gottfried ~
back in his SNL days, he did not use
(if my memory serves) the loud-mouth grating
voice that he has become famous for now.
His persona was really rather cute back then.

Here's an SNL promo shoot on a site called SaveSNL.com.
The site says they do not expect this video to remain
online much longer, so enjoy it while you can...