THE SIGNED PAGE
(CLICK FOR LARGER IMAGE)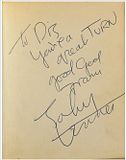 The Goods Being Auctioned ~ by Diz ~

Okay, so here we've got someone whose nickname in the 60's was "Diz" ~ and on December 4, 2006, in Rockefeller Center, New York, Christie's is auctioning his personally-autographed copy of "In His Own Write." Also, in a separate lot, an original 1962 Beatles handbill.

That, by itself, proves nothing. However, the description states that he met Brian at a 1964 party in LA (same as John "Diz" Gillespie did, according to Nat Weiss and others), and was given the book when they visited Kenwood.

As a further tipoff, John's personal autograph is embellished a bit more than he would usually do for just anyone ~ in a "this guy is not your everyday fan" kind of way.

Here are the actual lot descriptions and notes:
LOT 147 [ SCREENSHOT OF LOT 147 ]

"A book, LENNON, John In His Own Write, London: Jonathan Cape, 1964, front end paper signed and inscribed in blue ballpoint pen ~
To Diz, You're a great turn, good God, from John Lennon.

The vendor first met John Lennon and Brian Epstein in 1964 [see lot 132] and was given this book by John Lennon when he visited him at his home, Kenwood, in Weybridge, Surrey.
Diz was the vendor's nickname."

--------

LOT 132 [ SCREENSHOT OF LOT 132 ]

"According to the vendor, he was given this handbill by Brian Epstein in 1966. The two met at a party in Los Angeles in 1964 and maintained a friendship for many years.

See lot 147. "
Excuse me, but I take exception to the "maintained a friendship for many years" claim.


Per Nat (et al), the relationship lasted a few months at the most in 1964-65 (I believe Brian called it quits with him when Diz held the knife at his throat and took his wallet at his Whaddon House residence, shortly before he found and moved into his Chapel Street home) ~

~ and then, the affair was resumed for less than a week at the end of the 1966 tour, when Diz ran off with Brian's and Nat's suitcases, which included at least $8,000.00, important papers and contracts, and a plethora of illicit drugs. The ensuing chaos caused Brian and Nat to miss Candlestick Park, the last-ever Beatles tour gig.

THE HANDBILL ~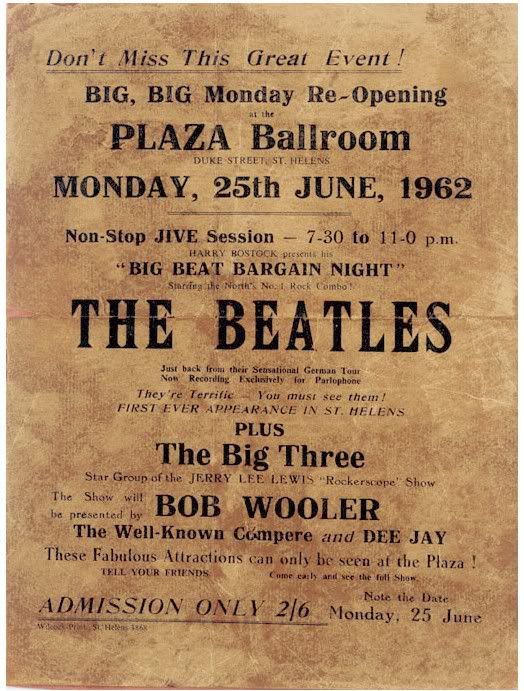 So ~~ this rare handbill was "given" to him by Brian in 1966. Right.
Along with $8,000.00 cash and a portable pharmacy, Diz?
---

Wow. I just don't know how to feel right now...

---