Offensive Jewish stereotyping in turn of the century Vaudeville ~
was mostly written, produced and promoted by ~ Jewish guys.

Holy shit, this is creepy.


Regarding this collection of antique ditties ...Just scroll down and read the Product Description, and listen to some of the samples. Un-effin-real.

Article from Slate: Borat Owes Me 97 Dollars / How Sacha Baron Cohen is Jewish vaudeville

It's like... stuff I don't like to even think about...
Because I really idolize Jewish people.

To take your mind off the above turn-of-the-century garbage...





[ The Barry Sisters ]
of the 30's and 40's
is more like it for me.

Listen to one of their CD's for free [ HERE ] !





---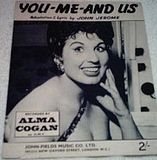 Now, now. To feel better, cast your eyes and ears upon the bright and lovely Jewish singer from England ~ Alma Cogan ~ the lady who was once asked by Brian Epstein to marry him.

LOTS of beautiful audio and video on Alma's site ~ including one very entertaining video featuring none other than John Lennon, who had a crush on her for awhile!

Hmmm! What is this, the third Shabbat Shmooze mentioning Alma? Hahaa. There ya go.


---
I might be pretty busy tomorrow. Just for starters, we have a birthday party for three family members and a grocery shopping trip to attend to. So I dunno how internetty I can get.
See ya.