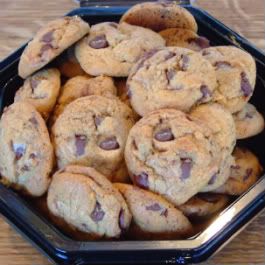 What's Different This Passover?
No Margarine
Cooks Face Shortage
Of Kosher Ingredient
By ANN ZIMMERMAN
April 18, 2008
It's the great kosher cooking crisis of Passover 2008.
A shortage of special kosher-for-Passover margarine is causing dismay in Jewish households across the nation as family cooks discover they can't make many of their traditional Passover meals without it.
(
Collapse
)
This is actually the second kosher crisis this Passover season, following the absence of holiday favorite Tam Tam matzo crackers because of production problems at the Manischewitz plant. It is the first time in more than 60 years that store shelves will lack the popular six-sided cracker that is as ubiquitous at Passover as Peeps marshmallow candies are at Easter and candy canes at Christmas.
(
Collapse
)
Here's the article on its original website
Y Y Y Y Y Y Y Y Y Y Y Y
PART TWO ~ Pesach Playlist?


(
Collapse
)
FROM CHRISTINE WITH MUCH
---