CLICK PIC FOR
LARGER IMAGE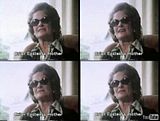 Tony Palmer on John Lennon, Phil Spector, and how he televised the revolution
Times Online - UK
Quote from article:
We played Russian roulette with Phil Spector,
and sat while Brian Epstein's mother spoke
publicly for the first and only time, in tears,
about her beloved son ...
I'm not really interested in the rest of this expensive box set, but I dearly wish to see this part of it.
If anyone has any idea how long the Queenie segment, on the actual DVD, is in minutes/seconds, pleease let me know!
---