*** THIS POST EDITED, REVISED & HIGHLY ADDED-TO ***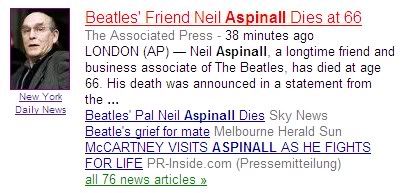 Lung cancer, age 66
The original and only officially Eppy-assigned Beatles biographer,
Hunter Davies
, does an obit on Neil ~
Beatles fixer and friend takes secrets to the grave
~ here's an excerpt ~
Neil Aspinall was one of only two people of any importance in the Beatles saga who never told their story. Which is strange, when you think we've had a thousand Beatles books these last 40 years. I asked him countless times, saying he should get it all down, before it's too late, if just for his children. He always said no.
[more...]
Source: The Guardian, UK
[Related Articles]
~*~ ♥ ~*~
Sir George Martin actually sent a letter to the
The Times UK
(printed at end of this article)
(
Collapse
)
~*~ ♥ ~*~
George Martin's letter
œ Although
Brian Epstein
spent an enormous amount of time trying to get a recording contract for the Beatles, he found that literally every label in England would turn them down, including EMI of which I was a small part.
Neil Aspinall
was overshadowed by
Brian
in those days, but his closeness to the Beatles made him the ideal person to take over the reins. He fitted the part as if he were born to it and he astonished the big players in the record business with his acumen. Maybe he said "No"™ too many times, but his overriding thought was always to protect the four Beatles in the frenzy that he had to deal with. No one can imagine the stress of handling the group, for everyone in the world wanted them. His business decisions were sound, and the fact that the Beatles are acknowledged to be the greatest of our stars is his legacy. He was an unassuming and loving family man, and a very good friend, loyal and faithful to the end.
We will all miss him, and so will the world."
George Martin
, Coleshill, Wilts
~*~ ♥ ~*~
Also, a letter from another old comrade was printed there
(at which point christine thinks of
rooftopconcert
allison)
Neil was an okay guy...very dedicated to his mates The Beatles. He kept their ship afloat though occasional rough seas and managed their finances and new projects brilliantly.
Sometimes his single-mindedness left him misunderstood by those who didn't appreciate his determination to take care of the Beatles legacy.
Sleep well Neil...you've well earned it!!
Sam Leach
, Liverpool, Lancashire.
---