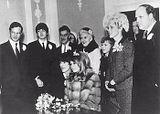 The Mail's website sneakily switched urls on us for the Page One of the article.
I'm not in the habit of overdoing Beatles materials at the expense of Brian materials, but I feel sheepish about yesterday's bad link.
HERE
is where the article is found today. Sorry for your inconvenience!
To make sure they don't pull another fast one on me, I shall also copy/paste the article here ~
~ Plus a few pics and my comment I hope they print...
~
(
Collapse
)
Read more...
•
Pattie Boyd: George had to ask Brian Epstein for permission to marry me
•
Pattie Boyd: The dentist who spiked my coffee with LSD
•
Glen Owen - The astonishing truth about Eric, George and me by Pattie Boyd