Various Deities Still Sorting Through Victims Of Tragic Queens Bus Accident
August 3, 2007
NEW YORK—An emergency coalition of deities from several major world religions is still sorting through the wreckage of a tragic bus accident that claimed 67 lives Friday in the culturally diverse Jackson Heights neighborhood of Queens.
(
Collapse
)
Thanks be to
thewayne
---
Thanks to the ever-vigilant Instant Karla at BeatleLinks Fab Forum, we get a sneak peek.
It's long (in 2 parts), with lots of good pictures, and a video interview at the end.
'My hellish love triangle with George and Eric' - Part One
CLICK PIC FOR
LARGER IMAGE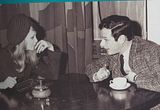 The excerpt we Eppylovers will be interested in is here:
George had to ask Brian Epstein for permission to marry me
~
~ but, Pattie explains to us the fact that clearing it with Eppy was necessary because their wedding date might have conflicted with a tour schedule or something ~ not because he was a despot, as many others have hinted!
She obviously loved Bri and has nothing but glowing praise for him.
Thank you, Pattie, thank you. ♥
---