(a 1973 photo)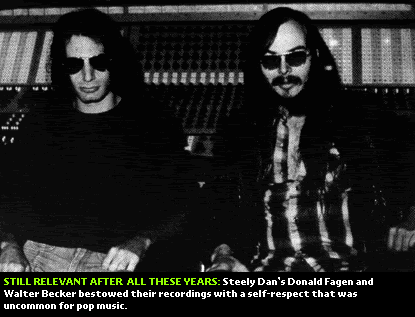 Steely Dan
Jewish rock star dirty joke coincidence number two: while the Lovin' Spoonful and 10CC are Jewish bands whose winking names need no explanation, few know that both indie rockers Clem Snide and soft-rock intellectuals Steely Dan are Jewish bands named after two of the cruder characters in William S. Burroughs' Naked Lunch.
Clem Snide might have taken their name from a certain talking orifice, but Yiddish-fluent non-Jew Walter Becker and authentic Hebraic rocker Donald Fagen went with the moniker of a giant dildo. It's the edgiest thing they've ever done, but the Dan has an enormous cult following.
(
Collapse
)
Y'all should like this ~
---
Y Y Y Y Y Y Y Y Y Y Y Y
---
And as long as we're talking musical Jews:
FROM THE OLD SMOTHERS BROTHERS SHOW
AIRED ON MAY 14, 1967
♥Paul Simon as I love him the best ~
~ with Art Garfunkel ~
~ and Tom & Dick Smothers, two of my all-time heroes!
I LOOVE the end where they all "ba-ba" together.
---
Finally, an aside to
ladyeffingbroke
~~
~~ Yeah, you're welcome, luv!