Once again the shiksa shlemiel makes her shabbat post a little late, after sundown.
But what can you expect from such a goyishe kop? Deal with it. ;P
---
(
Collapse
)
---
Another Item In The News Lately
(
Collapse
)
---
Passover 2007 - Pesach 2007 - Countdown Clock
From
http://www.whatgoeson.com/
Front Page > The Beatles
Latest news as of Saturday, February 24, 2007
Julia Baird book signing in Liverpool this Sunday
http://www.whatgoeson.com/story.200702231.html
Julia Baird, John Lennon's half-sister, will be signing copies of her much-anticipated book "Imagine This" at the Beatles Story on Sunday 25th February from 12noon - 3pm. Copies of the book will be available to purchase from the Beatles Story gift shop.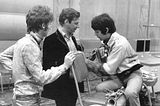 Paul and Ringo could finish one more Lennon tune
Lennon and McCartney may work together one last time. Yoko has given the green light for Paul Ringo to work on the unfinished song Now And Then, reports the Daily Express. She said, "It's up to them. But no, I'm not against it."
Source: Metro News, UK
Go to
What Goes On
for more Beatley news