For Shabbat, a little bit of shmooze:
Aversion Therapy
Why I can't date Jewish men
By Tobin Levy
http://www.nerve.com/personalessays/levy/aversiontherapy/
At age thirty, I've had four real boyfriends: Che Guevara, Jesus, G.I. Joe and, most recently, an anorexic-looking Troll doll with diminutive facial features and hair that stood straight up regardless of whether he'd been shaken.
"Is he Jewish?" asked my eighty-nine-year-old grandmother when Troll Boy and I started dating.
"His last name is Lord," I said.
"That's a holy name, isn't it?" she said, optimistically. He drove a Mercedes. She needed this one to be Jewish.
"Okay," I said, before hanging up.
(
Collapse
)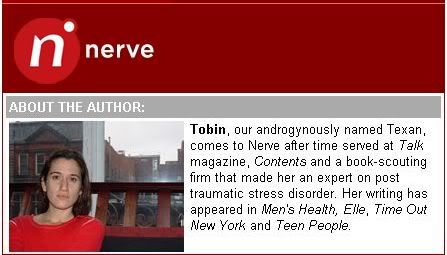 ---
Misc stuffs
3 minutes of Ringo on The Simpsons ~
Ringo himself voiced his own character, and the storyline is simply delicious. It's so Starkified. We need to see much, much more of this droomer fella!!!
http://www.youtube.com/watch?v=0qpJvn26aG0
~*~ ♥ ~*~
For the media behind the following cut, please copy the desired url then paste it into your browser's address space.
If I posted them as links, they may show as link-backs on their server, and I just don't want that to happen, considering the PID-based source. However, the vids and clips are nice.
(
Collapse
)
~*~ ♥ ~*~
And a Brian smile, just because I can. ~
~*~ ♥ ~*~
Finally ~
Today's Stephy Comic!