Courtesy of Trini from the new KLOS
Breakfast With The Beatles
~
A Google Video of a UK television show. It lasts over 45 minutes.
And the footage of the boys is so cute!
But
watch it now
,
before the Powers That Be get wind of it and take it away from us!
http://video.google.com/videoplay?docid=6137747512922826134
---
IN THE WORDS OF PILLOW FIGHT PHOTOGRAPHER HARRY BENSON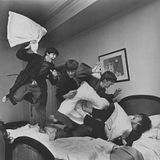 In the hotel George V, Paris, February, 1964 - At about 3:00am after a performance, the Beatles manager, Brian Epstein, came to tell them that "I Want to Hold Your Hand" was number one on the US charts, which meant that they would be going to America to perform on the Ed Sullivan Show. They were elated with the news. I had seen them have pillow fights before and when I suggested it, they all said it was a silly idea. Then John sneaked up and hit Paul in the head and the fun began.
(
Collapse
)
---
Just thought I'd mention Moment Magazine, the publication that got my attention with the outstanding
Brian Epstein article
, written by Beatles expert Walter Podrazik and Moment's editor Nadine Epstein, that they printed in its August issue. Such a loving tribute. I was overwhelmed.

(
Collapse
)
---
Small note of interest ~ or, should I say, the record industry's vile disinterest ~
Martin Lewis said he once asked a member of the Rock and Roll Hall of Fame's board whether Brian Epstein would ever get in, and was told that the chances were not good because Epstein is no longer alive and therefore cannot return any favors. Lewis said the board member -- whom he did not identify -- conceded that it was an appalling state of affairs, but that Epstein stood little chance of ever being the one non-performer admitted to the hall each year.
EDIT: Check out the sad search results that come up for
"brian epstein"
on the RRHoF site :(
Oh, and according to a 2001 post by
a guy
who worked on the construction of the RRHoF:
"By the way, the official name is The Rock and Roll Hall of Fame and Museum. You'll get in trouble with management if you don't write and say the whole thing."
Pretentious assholes.
---
PSSST...
MAL LOVERS ...
CHECK OUT
[ THIS PAGE ]
---
Dec 6 Post from 2005
Yes, I realize the links to the recordings have now been deleted, but this is a worthwhile archive nevertheless.
The Beatles Xmas LP
HINT:
If you wander over and make a daily check of either
beatlefiles
or
onlyprediction
, from now until the 25th, you might be able to score their Xmas records and much more.
---
Also, a new entry in the ole
eppylog
~~~
Yes, He Had A Fan Club
As usual, it's a copyover from an old
mrbrianepstein
post, which I have been neglecting to do lately.